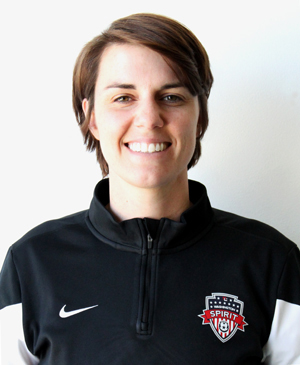 Spisak Named Spirit's Assistant Coach
The Washington Spirit announced March 11 that Kati Jo Spisak has joined the team as an Assistant Coach.
A former professional goalkeeper, Spisak will work alongside and provide support to general manager and head coach Mark Parson. She will work with the team on training programs, daily training sessions and preparing field players for games. Lloyd Yaxley will remain the Spirit's goalkeeping coach/assistant coach.
"As we reevaluated the coaching staff in the off season, we wanted to bring in another coach with the ability to be a positive influence in and around training on a daily basis and KJ was the perfect candidate," Spirit general manager and head coach Mark Parsons said. "With her experience playing at the highest levels, she will be able to bring in the psychological elements to help get the best out of both young and senior professional players."
Spisak attended Texas A&M University where she was a three time All-American and repeatedly on the Herman Trophy watch list. She played as a goalkeeper for the Women's Professional Soccer league. Spisak played internationally for the United States, competing in and winning the Nordic Cup in 2004. She has coached several club and high school teams with great success.
"It's exciting for me to make this next step into the professional coaching side of things. I feel like I can step up and help Mark in leading this team to success and I'm really excited about that," Spirit assistant coach Kati Jo Spisak said. "As a player and goalkeeper, I was very passionate and now as a coach I bring that same passion that made me successful as a player. I will do anything to get the players ready to go on the field and off the field."
The Washington Spirit is hosting Fan Fest Saturday, March 15 at 3:30 p.m. at the Maryland SoccerPlex, 18031 Central Park Circle in Boyds. The event includes a scrimmage followed by player autographs.
Related: