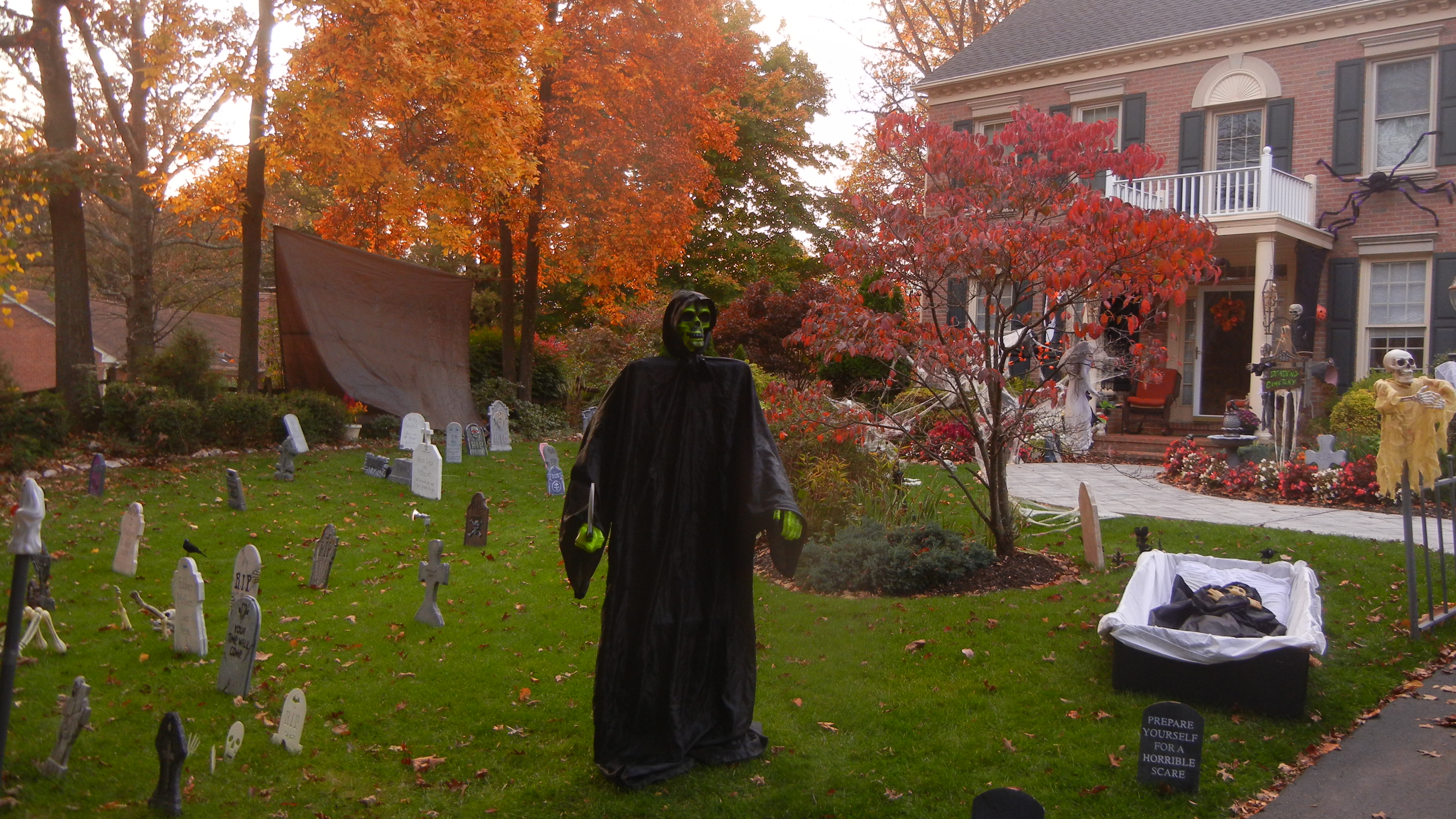 Spooky Scenes: DeGraba Family Goes All Out for Halloween (PHOTOS)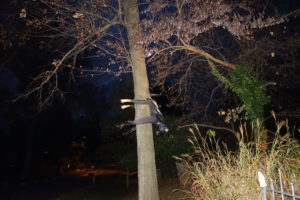 It all started with a witch crashing into a tree.
That's how Carol DeGraba remembers her family's foray into decorating for Halloween. Years ago, when her children were young, she found instructions for the bewitching Halloween decoration in Family Fun magazine.
"She crashes into the tree every year in early October and the neighbors have told us they wait for her so they know that Halloween is coming," said DeGraba. "We put a spotlight on her at night."
After the witch, came a ghoul.
"He is sound activated so his eyes light up and, he says, 'Happy Halloween,' and shakes," DeGraba said.
The grade of the DeGraba's yard at 13612 Cherrydale Drive in the Willows community of Potomac is sloped, which means it is perfect for creating a cemetery.
"Little by little, we started adding to our tombstone collection, even making some of our own using blocks of Styrofoam and a special cutter," she said, noting that the annual tradition of creating the graveyard has become a favorite family activity.
The result of all that imaginative family time has become a popular Halloween attraction in their neighborhood.
"As the collection grew, the neighbors started to look forward to it, and more people started showing up with cameras each year to pose in our graveyard," DeGraba said.
It's not just their neighbors who are checking out this Halloween scene.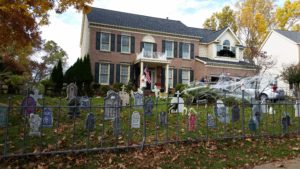 "We aren't sure how far people come to see our house but we do have people drive up in cars," DeGraba noted.
In addition to dozens of tombstones, passersby will discover gargoyles on pillars, a wizard with a cauldron and a Frankenstein display. Sometimes, she said, the skeletons and ghouls cause a car wreck in the driveway, too.
"It takes a couple of days to set it all up — by the time we put batteries in everything, test out the fog machines and figure out how to plug everything in," DeGraba said.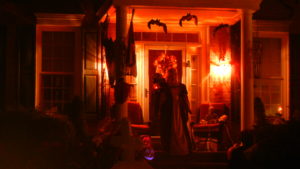 With her three kids now in college, she thought this year's Halloween would be quieter with scaled down decorations. But two of her kids thought otherwise.
"Nicholas, an engineering freshman at Maryland, has been here all weekend helping with set-up and plans to come back tomorrow evening with friends," she said. "Thomas, a junior public policy major at James Madison, is driving home tomorrow afternoon with his roommate to be part of the festivities once again."
Although her daughter is too far away at college to be here this year, her husband's brother and his daughter are also helping out on Halloween night.
"Over the years, we have enjoyed using our imaginations and creativity to bring happiness and a night of fun for others," DeGraba said. "It has helped us teach our kids that using your imagination doesn't have to end with childhood."
PHOTOS | Submitted