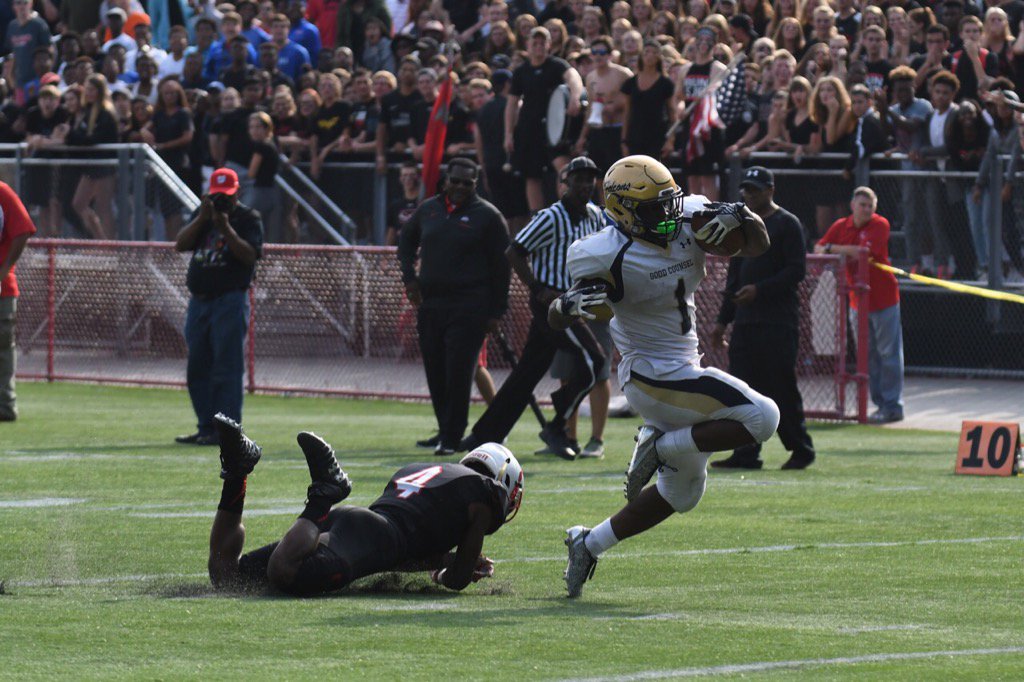 St. John's Upsets Good Counsel, 39-22 (PHOTOS)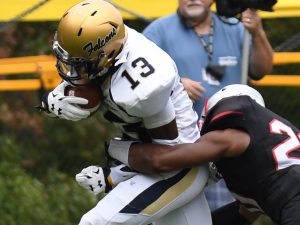 On Saturday afternoon, it was St. John's over Good Counsel, 39-22, in the Washington Catholic Athletic Conference (WCAC) opener for both teams.
The Cadets quickly scored first, and at halftime were leading the Falcons, 23-7. They never looked back.
Next up for St. John's is a big WCAC game at DeMatha. Good Counsel travels to Virginia to play Bishop Sullivan next week.
PHOTOS | Phil Fabrizio
Final. St John's 39. Good Counsel 22. @mymcmedia pic.twitter.com/Sbozkkjhl9

— Phil Fabrizio (@Photoloaf) September 24, 2016
End of 3 it's St John's 39 Good Counsel 22. @mymcmedia @GoodCounselHS pic.twitter.com/CTqdBy9s0N

— Phil Fabrizio (@Photoloaf) September 24, 2016
38 yd FG makes it 39-22 St John's. @mymcmedia pic.twitter.com/dkzq51l1qJ

— Phil Fabrizio (@Photoloaf) September 24, 2016
Ibraheim breaks free for 34 yd TD 36-22 st John's. @mymcmedia pic.twitter.com/uEwE7ZiBIk

— Phil Fabrizio (@Photoloaf) September 24, 2016
Robinson takes the handoff 66 yds for his 3 score of the day. St John's 36 GC 15 @mymcmedia pic.twitter.com/OFfCcg818M

— Phil Fabrizio (@Photoloaf) September 24, 2016
Travis in the end zone for the score with 2 PR conversion makes it 30 – 15 @mymcmedia pic.twitter.com/pVuRl7m22k

— Phil Fabrizio (@Photoloaf) September 24, 2016
Pic 6 by #20 McDaniel on first play of the 3rd QTR makes it St John 30 GC 6 @mymcmedia pic.twitter.com/9f7HMIZSyy

— Phil Fabrizio (@Photoloaf) September 24, 2016
At the half it's St John's 23. Good Counsel 7. @mymcmedia pic.twitter.com/5BwNsGSta8

— Phil Fabrizio (@Photoloaf) September 24, 2016
Good Counsel scores after a 80 yd drive to make it 23-7 with 23 seconds left in the half @mymcmedia @GoodCounselHS pic.twitter.com/hmzXq64nAb

— Phil Fabrizio (@Photoloaf) September 24, 2016
Hand off for a 6 yd TD run puts St John's up 23-0 with 8 minutes left in the 1st half @mymcmedia pic.twitter.com/EHwQdOGWkc

— Phil Fabrizio (@Photoloaf) September 24, 2016
Safety. Good Counsel fumbles out of the end zone. 16-0 S John's. @mymcmedia pic.twitter.com/sJ91b1xzLf

— Phil Fabrizio (@Photoloaf) September 24, 2016
Two quick scores and it's St John's 14 Good Counsel 0@mymcmedia pic.twitter.com/y6q4qxjye9

— Phil Fabrizio (@Photoloaf) September 24, 2016
Game time in NW DC both teams ready. @mymcmedia pic.twitter.com/w2IrkIrM0s

— Phil Fabrizio (@Photoloaf) September 24, 2016
As Living on a Prayer rings out St John's fans prepare for today's game pic.twitter.com/1sW4x6rlKF

— Phil Fabrizio (@Photoloaf) September 24, 2016
Special edition of Friday Night Lights brings us to DC where Good Counsel takes on St Johns in WCAC play@mymcmedia pic.twitter.com/gxshzCaooQ

— Phil Fabrizio (@Photoloaf) September 24, 2016