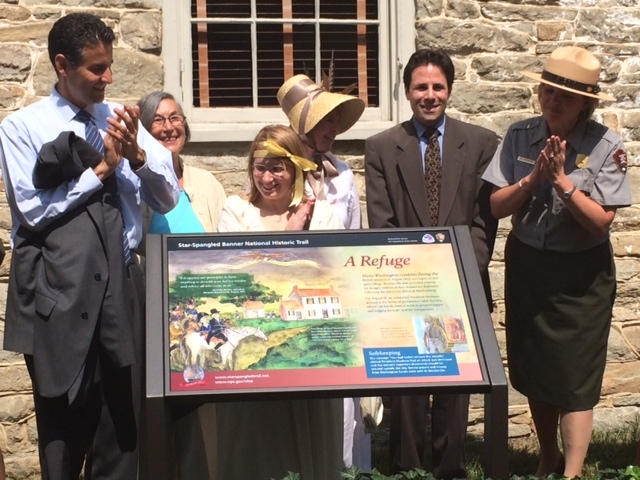 Star-Spangled Banner National Historic Trail Sign Unveiled in Brookeville (Video & Photos)
There is a new sign in Brookeville that designates the small town as part of the Star-Spangled Banner National Historic Trail.
U.S. Representative John Sarbanes, State Senator Karen Montgomery, State Delegate Craig Zucker, National Park Service officials and other community members –some in period costumes–took part in the July 22nd celebration outside the Brookeville Academy at 5 High Street.
Sarbanes said he was excited to see the signage. "This will be a critical portion of the Star Spangled Banner National Historic Trail," he said.
Abbi Wicklein-Bayne, an interpretive specialist with the National Park Service, said the sign is about making connections and establishing a legacy for years to come.
Brookeville resident Sandy Heiler, who chair's Brookeville's War of 1812 Bicentennial Commission, said the sign means a lot to the 60-acre town, which, she said, boasts a population of just about 123 residents.
It was Heiler, who first approached the Parks Service about the sign.
The Star-Spangled Banner National Historic Trail was established by Congress in 2008 and is one of 19 national historic trails administered by the National Park Service and one of 30 trails in the National Trails System. It emcompasses 560 miles on land and over sea and tells the dynamic story of the War of 1812 in the Chesapeake region as it connects historic sites in Maryland, Virginia and Washington, D.C.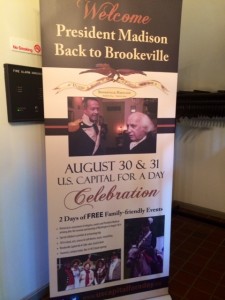 The town of Brookeville is also in high gear this summer planning its upcoming U.S. Capital for a Day celebration, which will take place on Labor Day weekend.
Access to the town of Brookeville on Georgia Avenue will be closed on both Aug. 30 and 31 for this celebration of the town's history. There will be shuttle service from three sites: MedStar Montgomery construction site, across from 18101 Prince Philip Drive; Camp Bennett, 20501 Georgia Avenue; and the Glenmont Station on Metro's Red Line.
You can find out more about the Capital for a Day event, which will feature reenactments, music, tours and barbecue, online here.