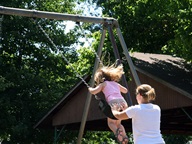 Starting Aug 3 – No Smoking and New Dog Rules for Gaithersburg Parks
The City of Gaithersburg have new park regulations starting August 3.  Smoking (including e-cigarettes) is now prohibited within a 25 foot radius of playgrounds.  Additionally, the Dog Exercise Area at Green Park will only be available to city residents with licensed dogs.  Fines for violating new regulations are $100.
The Gaithersburg Mayor and City Council adopted new regulations affecting park users on July 13 to amend the "Parks & Other Properties" Chapter of the City Code (15A), which was last updated in 2001.
Among the adopted changes which take effect August 3 are:
In city parks, the use of tobacco products (including e-cigarettes) will, in most cases, no longer be allowed within a 25-foot radius of a playground; the only exception to the 25-foot rule will be smaller parks such as Constitution Gardens. Maps denoting the "no smoking" areas in all city parks are available under the Related Documents section.
The Dog Exercise Area at Green Park will be available to city residents with licensed dogs only; nonresidents are encouraged to use other facilities within the County. Those nonresidents whose annual memberships have not yet expired will be allowed to use the park until their expiration date.
Unless otherwise designated, sledding, tobogganing, snowboarding, and skiing are now permitted in city parks. Snowmobiling continues to be prohibited.
Fires are permitted only in fireplaces provided by the city for that purpose; cooking on charcoal grills or stoves using gas or other liquid fuels are allowed, but only in designated picnic areas.
Launching, operating and/or landing rockets are not permitted without prior approval.
Language was added to allow parks to be closed and evacuated in emergency situations.
For more information contact the Department of Parks, Recreation and Culture.