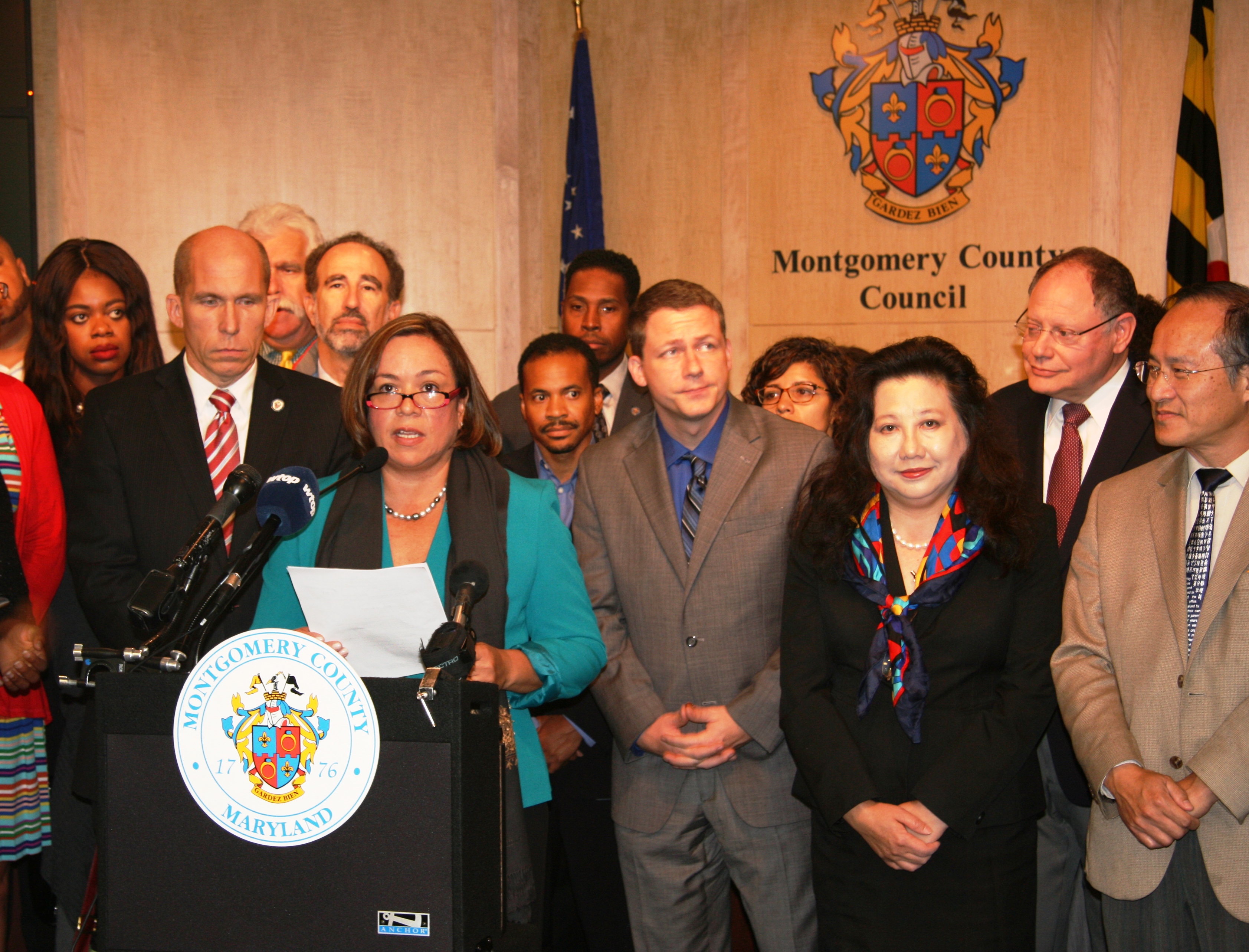 State and County Officials Held a News Conference to Address Decision on Early Voting Sites (VIDEO)
Montgomery County Councilmember Nancy Navarro, chair of the council's Government Operations and Fiscal Policy (GO) Committee, led a news conference on Thursday in Rockville to address the decision announced earlier this week by the Montgomery County Board of Elections (BOE) to relocate two established early voting sites in Montgomery County.
More than 150 people attended this news conference that officials said sought fairness for voters.
Maryland officials made the case to restore two early voting center locations in the county after BOE decided to eliminate popular sites in Chevy Chase and Burtonsville and replace them with early voting centers in the more sparsely populated areas of Brookeville and Potomac.
The news conference followed a worksession meeting that included Board of Elections President Jim Shalleck and the decision on early voting sites.
Maryland officials are now speaking at a news conference about early voting sites. #VotingRights

— Aline Barros (@AlineBarros2) October 1, 2015
Senator Jamie Raskin says this is an "assault" on the right to cast a ballot. "Why do we moved from a heavily traffic early voting sites?

— Aline Barros (@AlineBarros2) October 1, 2015
Delegate Eric Luedtke, a Burtonsville resident, said to move an early voting site from a heavily minority site, is simply wrong.

— Aline Barros (@AlineBarros2) October 1, 2015
Councilmember Sidney Katz says let's work together in a nonpartisan way to get more early voting sites.

— Aline Barros (@AlineBarros2) October 1, 2015
MD NAACP will petition state to reverse this action; notifying Legal Defense Fund that actions have been taken to suppress voting rights.

— Sidney Katz (@MC_Council_Katz) October 1, 2015
Stan Stai, Coalition of Asian Pacific American Democrats: "This is a partisan decision, and it's WRONG!"

— Sidney Katz (@MC_Council_Katz) October 1, 2015
Hucker says the state board needs to reject the committee's recommendation. #Votingrights

— Aline Barros (@AlineBarros2) October 1, 2015
Gabriel Acevero, African American Dem Club, says "for us, this is voter suppression… we're concerned of what this mean for all of us."

— Aline Barros (@AlineBarros2) October 1, 2015
Odessa Shannon, Former Ex. Dir. Human Rights Commission, says to move to a low-density community, 88% white … is this Montgomery County?

— Aline Barros (@AlineBarros2) October 1, 2015