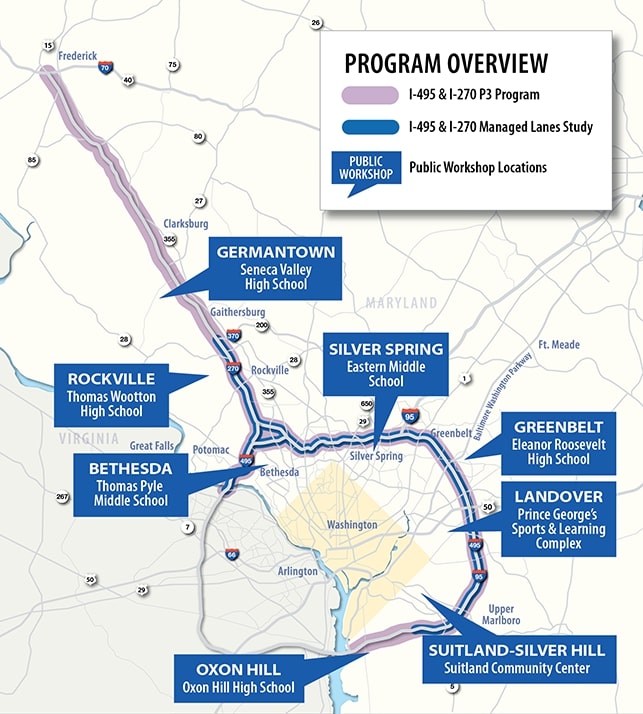 State Highway Administration to Host Transportation Alternatives Forums
Eight public workshops are scheduled in April and May throughout Montgomery and Prince George's counties for community members to learn about highway transportation alternatives and offer feedback.
The Maryland Department of Transportation's State Highway Administration (SHA) first presented its preliminary range of alternatives in July 2018. This report included 15 options for consideration in the I-495 and I-270 managed lanes study.
These proposed possibilities included adding general-purpose lanes, managed lanes and transit alternatives. This range was intended to address highway traffic congestion, offer more choices of travel methods and improve travel efficiency.
Since initially introducing the 15 alternatives and gathering feedback, the SHA has narrowed the options to seven recommended, screened options. The upcoming forums will present traffic, environmental and financial analyses for this reduced field of alternatives.
SHA team members will guide attendees through workshop materials — including informational displays and handouts, as well as interactive and hard-copy maps — at these forums. Comments will be accepted at the workshops and online.
Hearings will be held on:
Thursday, April 11 from 6:30 to 8:30 p.m. at the Prince George's Sports and Learning Complex in Landover
Saturday, April 13 from 10 a.m. to noon at Thomas W. Pyle Middle School in Bethesda
Tuesday, April 23 from 6:30 to 8:30 p.m. at Eleanor Roosevelt High School in Greenbelt
Wednesday, April 24 from 6:30 to 8:30 p.m. at Eastern Middle School in Silver Spring
Thursday, April 25 from 6:30 to 8:30 p.m. at Thomas Wootton High School in Rockville
Saturday, April 27 from 10 a.m. to noon at the Suitland Community Center in Suitland-Silver Hill
Tuesday, May 14 from 6:30 to 8:30 p.m. at Oxon Hill High School in Oxon Hill
Thursday, May 16 from 6:30 to 8:30 p.m. at Seneca Valley High School in Germantown
For more information about the forums, click here.