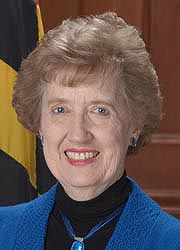 State Senator Jennie Forehand: "It is Time to Pass on the Torch"
Maryland State Senator Jennie Forehand (D) has announced she will not seek a sixth term.
"I came into office in 1978 to represent the people of Rockville and Gaithersburg and particularly those groups whom society had discounted," she wrote to constituents on her Facebook page. "I have accomplished so much more than I ever dreamed when I started 35 years ago and while this is a difficult decision, it is time to pass on the torch. I look forward to this last legislative session for me and to hearing from you about your concerns."
In previous years, Gaithersburg Mayor Sidney Katz has served as Forehand's campaign chair.
"Senator Forehand is a person that has dedicated her life to public service and has done an outstanding job helping all of us. I am proud that I have been her campaign chair for several years and proud to call her my friend," said Katz.
Although they have not officially filed, two Montgomery County Democrats have announced they are running for the District 17 Senate seat: State Delegate Luiz Simmons and former delegate Cheryl Kagan.
Both candidates said Forehand  informed them of her decision to retire during a telephone call on Jan. 2.
Simmons said the news was not unexpected.
"Jennie and I were elected in the same year," recalled Simmons, who added that although Forehand is a part-time legislator her commitment to community and service has always been fulltime. "She made District 17 her life. She genuinely loved what she did. I appreciate her service and I know many others do. She has established a set of standards and a good standard to be emulated in terms of service. I've always respected her for it."
In a news release dated  Jan. 2, Kagan said: "I salute Jennie for her remarkable career in public office and congratulate her on her many accomplishments. Jennie is a true trailblazer, and we owe her our gratitude. As a former president of the Women Legislators' Caucus, Jennie Forehand has been a consistent advocate for women and families. She has been an important voice on issues like genetic discrimination, domestic violence, and human trafficking. Jennie has set an example of honorable service that all who aspire to public office should admire."
The Maryland primary election is set for June 24.

Related posts: