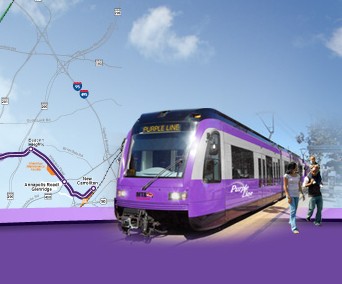 UPDATED: State Transportation Chief Orders Contracts, Hiring for Purple Line Suspended
Maryland Transportation Secretary Pete Rahn ordered Purple Line Transit Partners, the company chosen to build and operate the Purple Line light-rail transit link, to suspend new construction contracts and freeze hiring of construction staff.
The order is one of seven steps Rahn took because of an "unknown timeline for appeal" and dwindling resources.
PLTP also was ordered to suspend procurements for nonessential material and equipment.
The $5.6 billion Purple Line is meant to connect Bethesda with New Carrollton in Prince George's County, with stops in Silver Spring and College Park. Opponents to the east-west connection were able to delay the project in court.
On Tuesday, U.S. District Court Judge Richard Leon issued a final ruling on the suit, siding with the opponents that falling Metro ridership could affect ridership estimates for the Purple Line, and that further study is needed. Maryland Attorney General Brian Frosh that afternoon filed an appeal to his ruling calling for more ridership studies.
"With a legal path forward, MDOT's and the Purple Line's situation has changed from the unknown circumstances of just two weeks ago," Rahn said in a statement. "With an unknown timeline for an appeal and dwindling available cash to carry the federal reimbursable costs being expended by MDOT; and to protect the taxpayers of Maryland, I am ordering that action be taken immediately."
Greg Sanders, vice president of Purple Line Now, a group advocating for the light-rail connection, said Rahn's decisions could be easily reversed after supporters win their case in court.
"I'm not happy about [the decisions], but I trust Secretary Rahn in weighing those kinds of factors for the good of the project," he said.
"We're still in a better place than we were at 9 a.m. Monday morning," Sanders said.
County Councilmember George Leventhal said: "My thought is, it sounds to me that the state wants to proceed with the Purple Line, and it's prudently curtailing costs while the appeal is pending."
Leventhal said he hoped the case would be adjudicated quickly and the Purple Line would proceed.
Rahn also ordered the Maryland Transit Administration to suspend all hiring of Purple Line oversight staff, suspend state funding of county design reviews and pull from the Board of Public Works any requests to purchase right of way for the project.
"All parties are directed to limit the obligation of further costs for the Purple Line project to those of agreed necessity," according to a statement from the state Transportation Department.
Previous posts:
UPDATED: Leggett Disappointed with Purple Line Decision; Hogan Finds It 'Baffling'
UPDATED: Purple Line Supporters Urge Judge to Rule on Case Holding Up Construction (VIDEO)