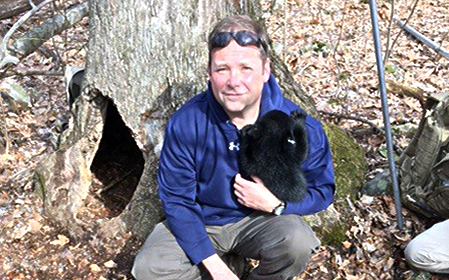 State's Top Bear Expert to Talk Bear Basics in Poolesville
There are an estimated 1,000 black bears in Allegany and Garrett counties, but it is the one spotted in Poolesville that has residents there concerned. They're concerned enough that they have called in the state's top bear expert to talk to them about it.
On Thursday at 7 p.m. at the Izaak Walton League in Poolesville Maryland Department of Natural Resources lead bear expert Harry Spiker is scheduled to share his bear expertise.
In fact, when a hungry bear destroyed Joe Long's bee colonies off White's Ferry Road this spring the town's Facebook page was all a-buzz about it. A state wildlife expert agrees the culprit was an adult black bear likely weighing several hundred pounds. That's when Poolesville town officials say they asked for an information session about bears for their residents.
Spiker said there has been a bear population in Maryland for decades, but a renewed conservation effort for the areas' landscape has helped to bring back their habitat. And in effect the bears as well.
"Some people see it as an indicator of the health of the forest. It's a wave from the West to the East. The crest of that wave is over Allegany but certainly we have bears to the East," he said.
The bear spotted in Poolesville may have been traveling through. A resident bear population means there are sows giving birth to cubs. That is happening in Allegany, Frederick and Garrett counties, Spiker said.
And Spiker said bears are pretty safe neighbors to have. He said on Thursday he hopes to dispel rumors and myths about bears.
"I love critters and they are big critters. The more I work with them the more they amaze me. They are awfully tolerant of people," he said.
But just how did he become a bear biologist?
"There are two species I wanted to work with- bears or sea turtles and I don't have credentials for sea turtles," he said.