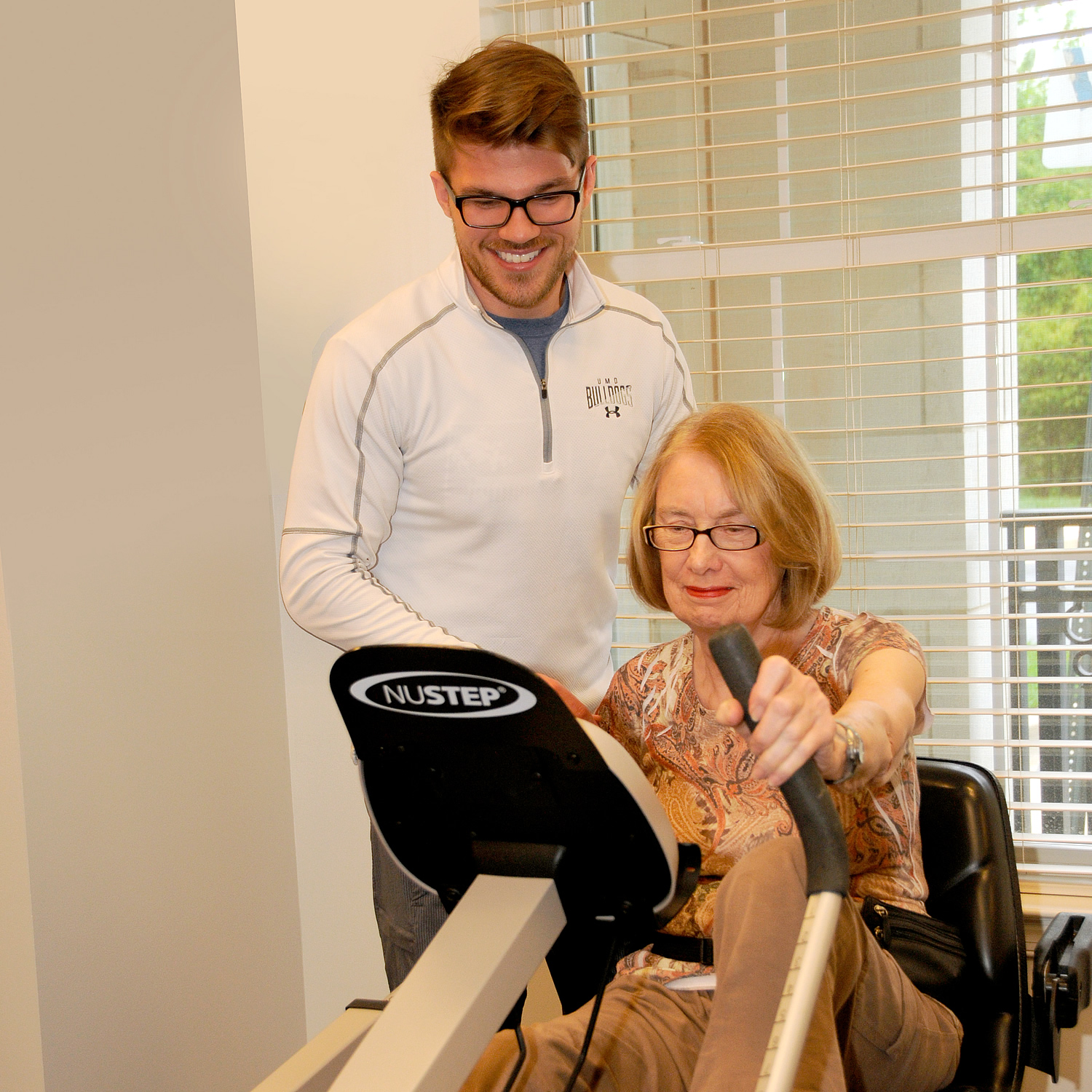 Staying Active in the New Year: Fitness Tips for Seniors
As we begin the New Year, many people are reflecting on goals for 2017. According to a Nielsen report, staying fit and healthy tops the list of peoples' New Year's resolutions.
Sometimes the hardest part about beginning an exercise routine is just getting started. But keeping it simple can make it easier to incorporate exercises into a daily routine. Chris Goldman, fitness manager at Ingleside at Rock Creek and Cody Christian, fitness manager at Ingleside at King Farm, both engaged senior living communities, recommend exercises seniors can start with in the New Year.
"I like to give people exercises they can take anywhere," says Chris. "When it comes to balance and strength training, my philosophy is 'use it or lose it'. Whether I'm working with a senior, giving a talk in the community, or helping a family member, I tell them you can only gain by doing."
Chris also stresses the importance of staying hydrated since dehydration effects balance. It is especially crucial as it gets colder and people often forget to drink as frequently as they should.
It's important to remember that everyone is different and to always speak with a healthcare professional before beginning an exercise program.
BALANCE
Having good balance is often taken for granted. As we age it's common for balance problems to occur for a variety of reasons, including side effects from medications, vertigo, vision problems, blood pressure issues, loss of muscle mass, and reflexes slowing down.
But there are exercises that can help:
Wall squats.
Stand with your back one foot away from a wall, with knees bent.
Begin to move slowly up and down- your back will be against the wall- knees should not pass the toes. Keep hips back and weight distributed mostly in the heels.
It is only necessary to bend, at the knees, as far as it takes your knees to eclipse your toes.
Having the assurance of a wall or railing is important for those working on getting stronger and feeling more stable.
Leg balances.
Stand at a counter or firm surface and practice balancing on one leg holding onto the counter.
See how long you can balance on one leg.
Alternate legs and repeat.
As you feel steadier, try not to hold on.
RANGE OF MOTION
Maintaining flexibility, particularly in the upper body, is essential for helping to improve joint function. Activating the upper body muscles also helps with posture.
A couple of exercises include:
Pendulum swing.
Stand next to a sturdy chair or table, hold on to the surface with one arm and let the other arm hang down limp; bend knees.
Use the motion of your shoulder to help guide the free arm back and forth, like a pendulum.
You can make small circles for several repetitions or a couple of minutes on each side, and then gradually make the circles larger. You can also just let your arm swing forward and back.
Shoulder rotation.
Sitting or standing, raise both shoulders up toward your ears, like you're shrugging.
Lower them to the starting position, and relax.
Pull your shoulders back and squeeze the shoulder blades together, then relax them again.
Next roll your shoulders in a circle and switch directions.
Repeat on both sides.
 Staying active isn't just important for your body, it can also help with memory. A recent study out of the Journal of the American Geriatrics Society showed that seniors who began weight training twice a week for six months showed significant improvements in mental function.
Both Chris and Cody feel especially rewarded hearing from residents about how they are benefiting from the programs they manage at their respective communities. "Their success stories are my success stories", says Cody.