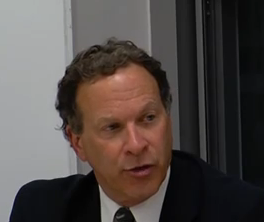 Steve Silverman Resigns as Economic Development Director (VIDEO)
In this MyMCMedia Extra Video, Economic Development Director Steve Silverman talks about his recent resignation and his future.
ORIGINAL POST Dec.5– MyMCMedia has confirmed that Steve Silverman, director of the Montgomery County Department of Economic Development, has submitted his resignation this week.
Patrick Lacefield, spokesperson for the County Executive's office, said Silverman has decided to pursue other opportunities. According to Lacefield, Sally Sternbach will serve as interim executive director.
Silverman was appointed as Director of the Montgomery County Department of Economic Development in April of 2009. Prior to that, he served as a member of the Montgomery County Council for two consecutive terms between 1998 and 2006, serving as its president twice and as Chair of the Planning, Housing and Economic Development Committee.
At the Commmittee for Montgomery legislative breakfast on Dec. 12, Silverman said he is leaving county government on Jan. 2 and will begin representing some private clients on Jan. 5 doing some government relations at the federal, state and local levels. He said he has been in county government for 16 years and is appreciative of the County Executive's support. He said it's a bittersweet decision but he looks forward to working with Mr. Leggett and former colleagues going forward.