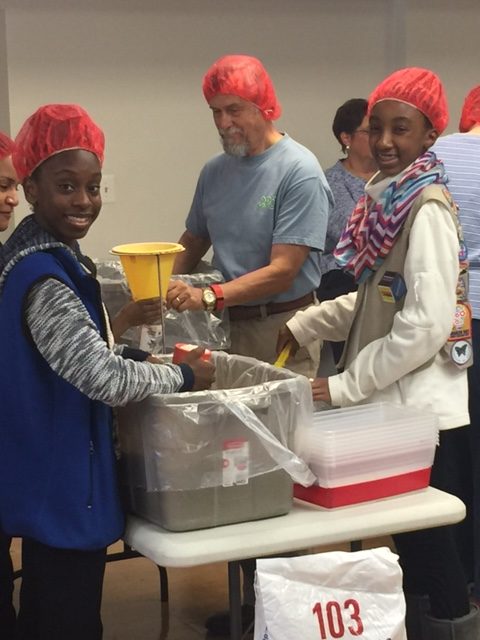 Stop Hunger Now!
On October 15, a breezy, sunny autumnal morning, members of the Girl Scout Service Unit 31-6, Boy Scouts Troop 1441 and members of The Colesville Presbyterian Church (CPC) gathered together to "Stop Hunger Now."  This effort was coordinated by Jean Dimeo of CPC. The church also sponsored and hosted this event. It's All Purpose Room had been converted into a well organized packaging operation where protein and vitamin supplemented rice packets were assembled and boxed in preparation for shipment to Uganda, Africa.
Stop Hunger Now is an international hunger relief organization that coordinates the distribution of food and other life-saving aid around the world. Driven by the vision to end world hunger, its meal packaging system provides volunteers with the opportunity to impact feeding programs in schools and orphanages in developing countries in crisis. In addition to the donation of large quantities of food, medicines and medical supplies are also received and distributed in the provision of hunger and crisis relief.
Sabrina Breedlove and I interviewed Tray Light, the CHEF from the Central Virginia warehouse of Stop Hunger Now. CHEF stands for Certified Hunger and Event Facilitator. He has served in this role since 2012. He explained to us that each packet costs 29 cents. Each box packed holds 216 packets. The big brass gong is rung after each 5th box boards the truck. On October 15, a total of 20,304 packets, capable of feeding 121,824 was packed!
Tray also provided some other key facts concerning the impact of this program as it relates to school age girls.  Without an education, the typical age of teenage pregnancy is 12.  With a 4th grade education, that age rises to 18 years old.  With an education and a trade, she is now able to control her family and economic destiny with greater skill. There is also a reduction in infant mortality rates and an increase in infant birth weights. There is also an increase in leadership roles held by young women and an improvement in her ability to contribute completely.
Since the inception of this program, the percentage of children getting an education has risen 200 to 300 percent. The average number of children has grown from 150 to 1,200 who daily attend school. The rate of death has dropped from 40,000 to 21,000 a day.
To get involved, you are invited to visit the website www.stophungernow.org to learn more about what they do and how you can participate. Become a fan on Facebook and get updates about recent packaging events, crisis response and chat with other supporters. Follow on Twitter at www.twitter.com/Stop_Hunger_Now.
Contributor: Ms. Lasaundra
Troop 3148
For more information about Girl Scouts, please visit www.gscnc.org.