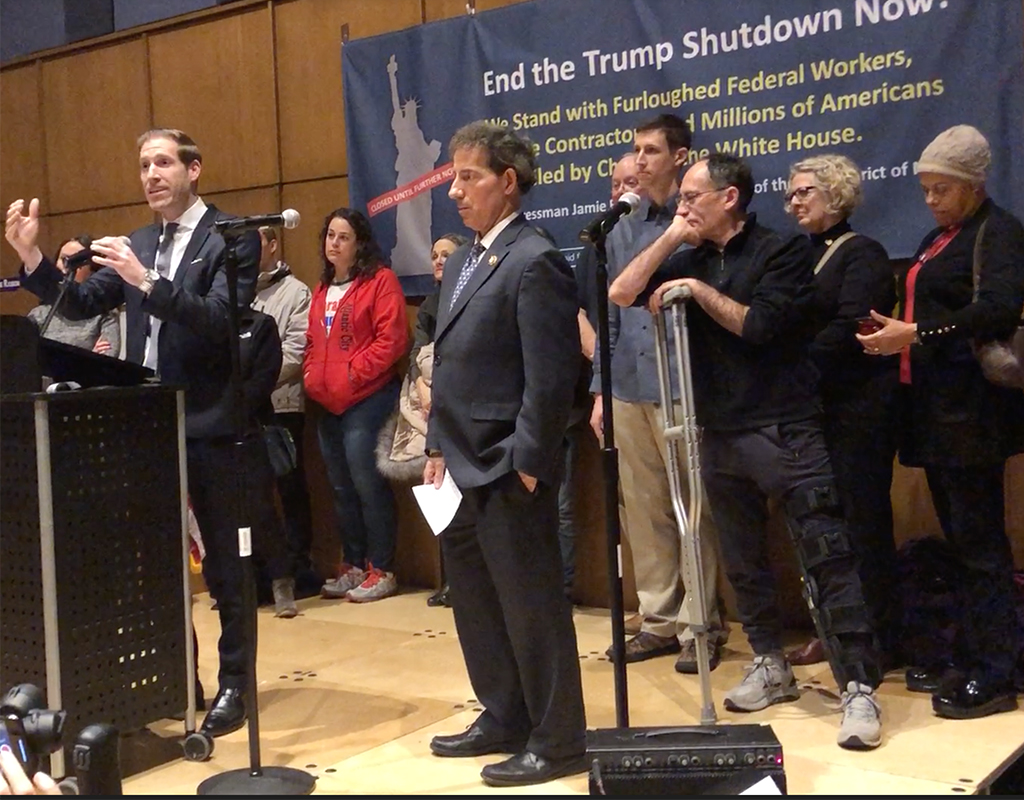 'Stop the Shutdown, Stop the Wall': Furloughed Workers Call for Government to Re-Open
Politicians and furloughed federal workers came out to protest the government shutdown at the Silver Spring Civic Center on Wednesday night.
The event was lead by Rep. Jamie Raskin, who started the rally with a chant: "All for one, one for all, stop the shutdown, stop the wall."
In addition to Raskin, the rally featured other prominent democrats speaking out against the shutdown, including U.S. Sen. Chris Van Hollen, D-Md.; and U.S. Reps. Don Beyer, D-Va., Abigail Spanberger, D-Va., and John Sarbanes, D-Md.
J.David Cox, the president of American Federation of Government Employees also addressed the crowd, saying President Donald Trump was holding workers "hostage" with the government shutdown.
"This is not just about us not getting paid," said Cox. "It's about someone taking 800,000 workers hostage—millions of children hostage—it's about 'hostage taking' in this country, brothers and sisters, and we can't stand for it."
The common theme amongst the speakers was that Trump is to blame for the government shutdown.
In his speech, Van Hollen referenced the president telling House Speaker Nancy Pelosi and Senate Minority Leader Chuck Schumer that he'd be "proud" to shut down the government.
Van Hollen said, "We are here to say, Donald Trump, there's nothing to be proud of when you have waste and trash piling up in our national parks. There's nothing to be proud of when people who are vulnerable are not able to get access to affordable housing. There's nothing to be proud of when you force 800,000 employees to go without pay."
During the event, Raskin brought furloughed workers up to the stage to talk about their frustrations with the shutdown.
Here's a recap of the full event, featuring the stories of furloughed federal workers:
'I Am a Public Servant': Furloughed Workers Demand Government Re-Opens