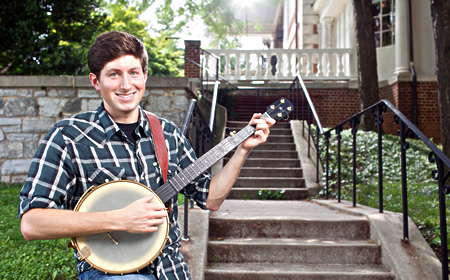 Strathmore Presents AIR Banjo Player Brad Kolodner (Video)
Artist in Residence Brad Kolodner will perform March 26 at 7:30 p.m. in the Mansion at Strathmore, 10701 Rockville Pike, North Bethesda. Kolodner will perform material from his new album, Skipping Rocks. Tickets are $17 and may be purchased by calling 301.581.5100 or online at Strathmore website.
Kolodner represents the next generation of Old-Time musicians incorporating neo-traditional chords, unusual rhythmic patterns, original tunes, and dynamic and tasteful arrangements. Kolodner has rapidly gained national attention for his unique approach to the banjo, a style called Clawhammer that is experiencing a rebirth in American folk music. He is helping to lead the charge as a performer, teacher, DJ for WAMU's Bluegrass Country, jam leader and ambassador for Old-Time music. He will be joined on stage by his father Ken Kolodner, world-renowned hammered dulcimer player and fiddler.
Brad's musical journey began as a teenager when he first picked up the banjo at a music camp in Maine in 2007. Within a few years, he began performing regularly with his father and competing in regional banjo contests. One of his most notable performances was at the Kennedy Center's Millennium Stage in 2009. The following year, he won the prestigious 2010 Old-Time Banjo Festival Contest, earning him a performance slot later that evening at The Birchmere where he opened for banjo legends Tony Trischka, Cathy Fink, and Adam Hurt. He regularly performs in a duet with his father Ken.
Kolodner's most recent endeavor has been the creation of the Baltimore Old Time Jam, a bi-weekly jam in the heart of Baltimore's Station North Arts District that he leads with his father. The jam is a gathering place for dozens of area old-time musicians and enthusiasts. Additionally, he spearheaded the creation of the Baltimore Square Dance, a wildly popular bi-monthly dance held at Mobtown Ballroom in downtown Baltimore.
On Wednesday, March 19 at 7 p.m. in the Mansion, Kolodner conducted a free education workshop Old-Time in the Modern World.
Video of Ken and Brad Kolodner performing Otter Creek

Related Posts