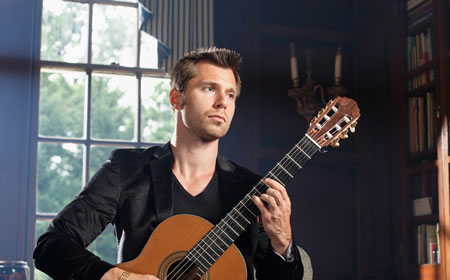 Strathmore Presents AIR Classical Guitarist Piotr Pakhomkin (Video)
Artist in Residence Piotr Pakhomkin will perform April 23 at 7:30 p.m. in the Mansion at Strathmore, 10701 Rockville Pike, North Bethesda. Pakhomkin will present concerts honoring mostly Spanish composers, including Tarrega, Albéniz and Rodrigo, plus virtuosic and acrobatic works by Paganini and Mertz. Tickets are $17 and may be purchased by calling 301.581.5100 or online at Strathmore website.
Russian-American concert guitarist Piotr Pakhomkin has been awarded top prizes at many international guitar competitions, including 1st place at the 5th International Culiacan Guitar Competition (Mexico), 2nd place at the Montreal International Guitar Competition (Canada), as well as 1st place at the Great Lakes Guitar Competition (USA). Recently, a string of solo engagements with the Annapolis Chamber Orchestra featuring concertos of Rodrigo and Vivaldi impelled critics to recognize a great young artist, who has already performed at such venues as the Kennedy Center and the Dweck Center of Contemporary Culture in New York. Recently, he was invited by the Guitar Association of Panama to perform recitals at Panama City's historic National Theater and lead several master classes as part of the nation's VIII International Guitar Festival.
On Wednesday, April 16 at 7:30 p.m. in the Mansion, Pakhomkin will conduct a free education workshop Classical Guitar Technique in Modern Rock Music. Reserve seat here.
Video of Piotr Pakhomkin performing Heitor Villa-Lobos
https://www.youtube.com/watch?v=QGZaoTBSUc8
Related Posts