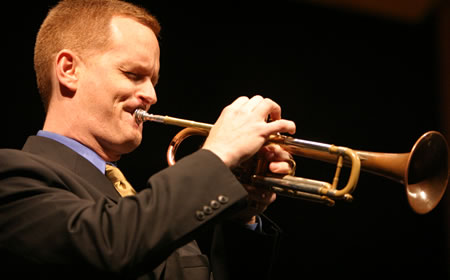 Strathmore Presents AIR Mentor Graham Breedlove (Video)
Two-time Grammy Award winner Graham Breedlove performs with Artists in Residence Elijah Balbed and Christie Dashiell Nov. 20 at 7:30 p.m. in the Mansion at Strathmore, 10701 Rockville Pike, North Bethesda. Breedlove is a Louisiana native who has been hailed as "One of the most exciting trumpet players on the planet" by media outlets such as Jazz Times,
AllAboutJazz.com
and The Washington Post. He has appeared on nearly 200 recordings, including two Grammy winners, and has performed with The Saturday Night Live Band, Doc Severinsen and Wynton Marsalis. Graham's compositions have been heard on NBC, Food Network, PBS and ESPN, and he has performed at the White House, Kennedy Center, and at jazz festivals across the country. He is a member of the Army Blues, one of America's premier big bands, and also leads the Graham Breedlove Quartet, a musical gumbo of traditional Louisiana music mixed with the harmonic and melodic innovations of modern jazz.
Video of "Not on the Bus" Army Blues at Blues Alley featuring Graham Breedlove on Trumpet

Tickets are $17 and may be purchased by calling 301.581.5100 or online at Strathmore website.
Related Posts