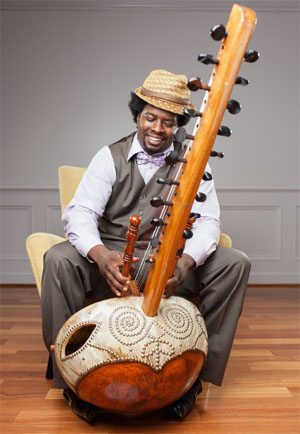 Strathmore Presents AIR Percussionist Amadou Kouyate (Video)
Artist in Residence Amadou Kouyate will perform June 4 and 18 at 7:30 p.m. in the Mansion at Strathmore, 10701 Rockville Pike, North Bethesda. Born in Washington, Amadou Kouyate has studied and performed West African Mand­ing music since the age of three. Kouyate is a dynamic djembe and koutiro drummer. He also plays the kora, which he learned first with his father, Djimo Kouyate and other master Djali, oral historians and musicians of West African Manding tradition. Amadou has dedicated his life to being an ambassador of African culture. His repertoire blends the depth and beauty of traditional Manding culture and instrumentation with the innovative nuances of contemporary genres and experimental music.
Tickets are $17 and may be purchased by calling 301.581.5100 or online at Strathmore website.
Video of Amadou Kouyate on World Beat 101

Related Posts