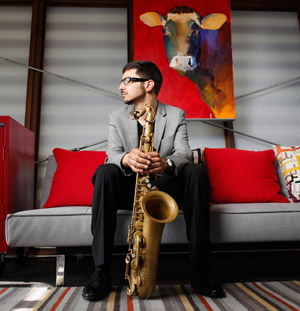 Strathmore Presents AIR Saxophonist Elijah Jamal Balbed (Video)
Artist in Residence Elijah Jamal Balbed will perform May 14 and May 28 at 7:30 p.m. in the Mansion at Strathmore, 10701 Rockville Pike, North Bethesda. Balbed will be honoring the Godfather of Go-Go, Chuck Brown, in a collaborative event fusing elements of jazz and Go-Go, in what he calls the "JoGo Project". The concert will include the world premiere of a new song commissioned by Strathmore. Tickets are $17 and may be purchased by calling 301.581.5100 or online at Strathmore website.
Saxophonist and composer Elijah Jamal Balbed, named Best New Jazz Musician by Washington City Paper, is from Washington, D.C. and studied with the area's top educators: Paul Carr, Charlie Young, and Fred Foss. Balbed has performed in several cities including Austin, New Orleans, Philadelphia and New York City, as well as numerous cities in Japan. He attended Howard University, where he played in the Howard University Jazz Ensemble (HUJE) and the HU Jazztet, appearing on five albums with the groups and performing with Bunky Green, McCoy Tyner, Pharoah Sanders, Bennie Maupin and Larry Willis. Balbed also had the rare opportunity to perform as a part-time band member for music legend and Godfather of Go-Go, Chuck Brown. He performed with Brown from May of 2011 until his death in May of 2012.
For several years Balbed has been a resident artist at the legendary jazz club, Bohemian Caverns in the District. In addition to being a charter member of the house band, the Bohemian Caverns Jazz Orchestra, he served as Artist-in-Residence at the club in July 2011 and in April 2013. The first residency led to the recording of his debut album, Checking In. The title track awarded Elijah as a finalist in the International Songwriters Competition, and is also used as a jingle on DC's only jazz radio station, WPFW. Balbed performs along the East Coast with his own various projects, and was a recent participant in the Kennedy Center's Betty Carter Jazz Ahead residency program.
On Wednesday, May 21 at 7:30 p.m. in the Mansion, Balbed will conduct a free workshop Listen to Jazz & Improve Your Life. Reserve a seat here.
Video Elijah Jamal Balbed performing Misty

Related Posts