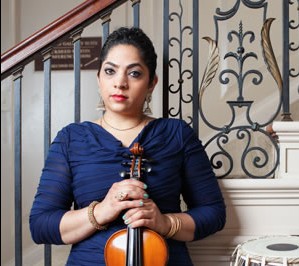 Strathmore Presents AIR Violinist Nistha Raj (Video)
Artist in Residence Nistha Raj will perform Feb. 26 at 7:30 p.m. in the Mansion at Strathmore, 10701 Rockville Pike, North Bethesda. Raj will perform classical North Indian (Hindustani) music on the 5-string acoustic violin. Enjoy original arrangements with non-traditional elements such as human beatboxing and cajon drum.
A distinguished performer and teacher of Hindustani classical and Western classical violin in Washington, D.C., Raj has performed at the United Nations, Kennedy Center, Department of State and the Indian Embassy. Internationally she has performed at the U.S. Embassy in Colombia, Canada, India and Poland. Raj is a recipient of multiple grants from the DC Commission on the Arts and Humanities, including the 2012 Artist Fellowship. A versatile musician, Raj pursues new horizons by melding tradition with contemporary innovation—lending her talents to the jazz trio The Fourth Stream, collaborations with hip-hop artist Christylez Bacon and six-string electric cellist Wytold, and recording with rock band NRIs.
In 2005, after being selected as the only American to receive a scholarship from the Indian Council for Cultural Relations, Nistha completed two years of intensive formal training at the Gandharva Maha Vidyalaya in New Delhi, India. In total, she has over 20 years of classical violin training in the U.S. and India.
On Wednesday, Feb. 19 at 7:30 p.m. in the Mansion, Raj will present the free education workshop A Classical Mélange: Hindustani & Western Violin. She will explore the nuances of Hidustani and Western violin in tone, build and playing during the free education workshop. Hindustani classical music is an ancient art form that originated in the Indian sub-continent more than 5,000 years ago and is one of the two subgenres of Indian classical music. The music is based on raaga (melody) and taal (rhythm). Audiences will discover what raaga(s) are and why they are played according to time of day and season; sample different rhythmic structures; and learn about the role of the western violin in this musical tradition.
Video of Raj

Tickets are $17 and may be purchased by calling 301.581.5100 or online at Strathmore website.
Related Posts