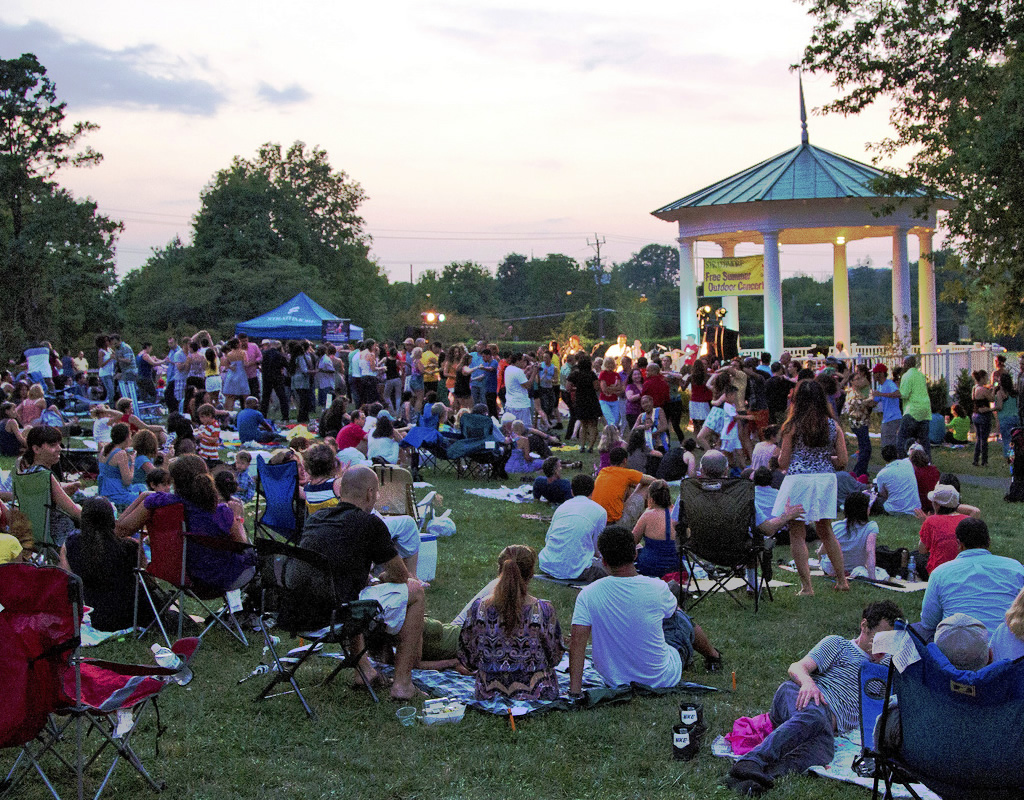 Strathmore's Summer Concerts 'Live from the Lawn' Continue through Aug. 28
Strathmore's outdoor summer concerts series, Live from the Lawn are scheduled to begin July 10 with eight free concerts. The free concerts take place on Wednesday evenings July 10 through August 28 at 5301 Tuckerman Lane in North Bethesda. All concerts begin at 7 p.m. Guests are encouraged to bring blankets or low beach chairs. The concerts are moved indoors for inclement weather.
Learn more and request an email reminder, here.
Schedule of Performances:
July 10 – Front Country
In the shadow of the San Francisco skyline, Front Country forged a sound hell bent on merging the musical past with the future. Featuring a lineup of classically trained innovators, Front Country does roots music their own way.
Video of  Front Country performing If Something Breaks
July 17 – Band of Us
This Silver Spring band performs a soulful take on alternative rock featuring eclectic instrumentation that includes violin, trumpet, sax, and keys.
July 24 – Joe Falero Band
Puerto Rico-born percussionist, DJ, and frontman Joe Falero has been playing music his entire life. He is a master of a wide range of Latin genres, deftly leading his band through salsa, mambo, cumbia, merengue, and more.
July 31 – Miss Tess & The Talkbacks
Miss Tess has a sultry, jazzy sound that's hard to pin down. Her music doesn't really fit in any one box—except maybe a jukebox from a retro diner. Tess got her start in Maryland as the daughter of swing band musicians.
Aug. 7 – The Josanne Francis Septet
Born and raised in the twin-island Republic of Trinidad and Tobago, Francis is an internationally known steelpan performer and music educator. The septet's sound conjures traditional calypso music mixed with funk, rock, and classical melodies. It's steelpan like you've never heard it before.
Aug. 14 – Rare Essence
Rare Essence is a D.C. institution with a multi-generational fanbase that goes wild for the band's high-energy go-go performances. Nobody today does go-go better than Rare Essence.
Aug. 21 – UkeFest Finale
It's back, and better than ever! The summertime strum celebrates its tenth year, with Cathy Fink, Marcy Marxer, Daniel Ho, and Peter Luongo. This fantastically fun concert is the culmination of the 11th annual UkeFest intensive workshop and a highlight of summer at Strathmore.
Aug. 28 – Aaron Abernathy
Pianist and soul singer Aaron Abernathy began his journey studying jazz piano at Howard University. He served as the musical director for global touring acts Black Milk and Slum Village and collaborated with Grammy-nominated artists including Jack White, The Foreign Exchange, and Eric Roberson. As a solo artist, Abernathy presents a modern take on classic soul, pairing socially conscious themes with sensual melodies that are uplifting and inspiring.
Weather
In case of inclement weather, concerts are moved indoors. Check Strathmore website or Twitter or Facebook sites for up-to-the-minute information.
Parking at Strathmore
Parking is available in the Metro garage for $5.20 with Metro SmarTrip card or major credit card. Enter the parking garage off Tuckerman Lane. Parking for patrons with disabilities (with tag) and Strathmore Stars Parking (with Strathmore Summer Parking Pass) is in the Mansion lot on a space available basis. Enter at 10701 Rockville Pike until 7 p.m.
Dining
Ridgewells Tempo Tent is open during the performances starting at 5:30 p.m.