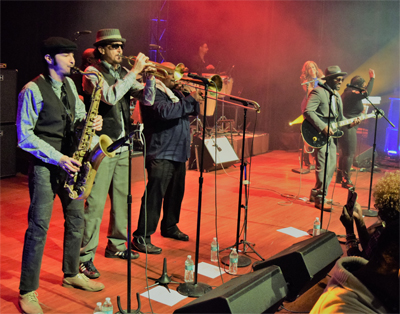 Strathmore Presents The Chuck Brown Band Wednesday, Aug. 1
Strathmore's outdoor summer concert series "Live From the Lawn" is back. The free concerts take place on Wednesday evenings now through Aug. 29 at 5301 Tuckerman Lane in North Bethesda. All concerts begin at 7 p.m. Guests are encouraged to bring blankets, low beach chairs, and a picnic. The concerts are generally moved indoors for inclement weather. Tickets are not required.
August 1: The Chuck Brown Band
UPDATE: This concert has been moved indoors to the Music Center. Please note that food, beverage and freestanding chairs are not permitted in the hall.
The Godfather of Go Go's band brings back the danceable funk and soul grooves that Brown developed in the early '70s in DC. His longtime band plays true to the signature style that earned Brown a place in American musical royalty.
Video of The Chuck Brown Band

Weather
In case of inclement weather, concerts are generally moved indoors to the Music Center. Weather updates are posted to Strathmore's website and social media.
Parking at Strathmore
Parking is available in the Metro garage for $5.20 with Metro SmarTrip card or major credit card. Enter the parking garage off Tuckerman Lane. Parking for patrons with disabilities (with tag) and Strathmore Stars Parking (with Strathmore Summer Parking Pass) is in the Mansion lot on a space available basis. Enter at 10701 Rockville Pike until 7 p.m.
Dining
Ridgewells Tempo Grill is open during the performances. View the menu, here.
Schedule of Remaining Performances:
August 8
ERIN & THE WILDFIRE – Vocalist Erin Lunsford fronts the Charlottesville-based band which has become a Virginia favorite for their rock, soul, and funky sounds, not to mention their goofy charm. Enjoy their dynamic sound and tunes from their first full-length album, Thirst, inspired by the likes of Alabama Shakes, Vulfpeck, and Tedeschi Trucks Band.
August 15
UKEFEST – It's a celebration of the ukulele. UkeFest features ukulele superstars Cathy Fink, Marcy Marxer, Craig Chee, and Sarah Maisel along with a mass strum-along. This fun concert is the culmination of the 10th annual UkeFest intensive workshop and a highlight of summer at Strathmore. Bring your ukulele to a strum-along at 6:30 p.m. before the concert featuring UkeFest instructors.
August 22
THE MARK G. MEADOWS SEXTET – Meadows is a DC jazz musician, composer, and vocalist on a mission to create a unifying sound that breaks social barriers. Meadow's harmonizes pop, gospel, R&B, hip hop, funk, and jazz while delivering lyrics that speak to the soul.
August 29
THE SWEETBACK SISTERS – This Brooklyn-based band creates a unique brand of Americana infused with hints of jazz and ragtime. Centered around the charismatic vocal interplay of Emily Miller and Zara Bode and backed by the band The Sweebackack Sisters perform a mix of infectious originals and unexpected interpretations ranging from George Jones to Gram Parsons.