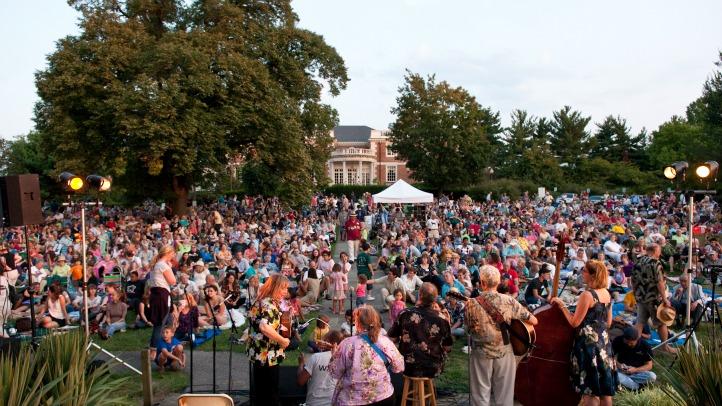 Strathmore's Summer Outdoor Concerts (VIDEO)
Strathmore 's outdoor summer concerts are back.  The free concerts take place on Wednesday evenings from now through August 19 at the Gudelsky Concert Pavilion Gazebo at 5301 Tuckerman Lane in North Bethesda. All concerts begin at 7 p.m. Guests are encouraged to bring blankets or low beach chairs.
Wednedsay, July 22
NO BS! BRASS BAND – No BS! Brass Band has perfected the art of fusing New Orleans spirit and East Coast funk into a parade of musical fun. The Richmond, Virginia based outfit creates a Crescent City sound that is funky and danceable.
Video of No BS! Brass Band
Weather Cancellations
Check Strathmore website or Twitter or Facebook sites for up-to-the-minute information on weather-related delays or cancellations. Changes will be announced by 4 p.m. the day of the performance.
Parking at Strathmore
Parking for the Free Summer Outdoor Concerts and Workshops is in the Metro garage for $5 with Metro SmarTrip card or major credit card. Enter the parking garage off Tuckerman Lane. Parking for patrons with disabilities (with tag) and Strathmore Stars Parking (with Strathmore Summer Parking Pass) is in the Mansion lot on a space available basis. Enter at 10701 Rockville Pike until 7 p.m.
Schedule of Remaining Performances:
Wednedsay, July 29
FRANK SOLIVAN & dIRTY kITCHEN – come hear the compelling new sound in country/bluegrass. Grammy nominated for their album Cold Spell, Solivan and the boys bring new textures and classic techniques as they move the art of bluegrass into the future.
Wednesday, August 5
CHEICK HAMAL DIABATE – Mali native, griot, and Grammy nominee Cheick Hamala Diabate plays the ngoni, an African string instrument, and leading his band in a joyously rhythmic tribute to the cultures and traditions of Africa.
Wednesday, August 12
tHE RAILSPLITTERS – Venture beyond bluegrass with this high-energy, genre-bending, bluegrass-roots quintet led by lead singer Lauren Stovall. Combining traditional influences and original contemporary compositions, The Railsplitters log a lot of harmony and pack a lot of power.
Wednesday, August 19
UKE FEST – It's back, and better than ever! The summertime strum celebrates its seventh year, with Jeff Peterson, Del Rey, James Hill & Anne Janelle, and of course Cathy Fink and Marcy Marxer. Don't miss this all-star celebration of the little instrument that brings people together in harmony.