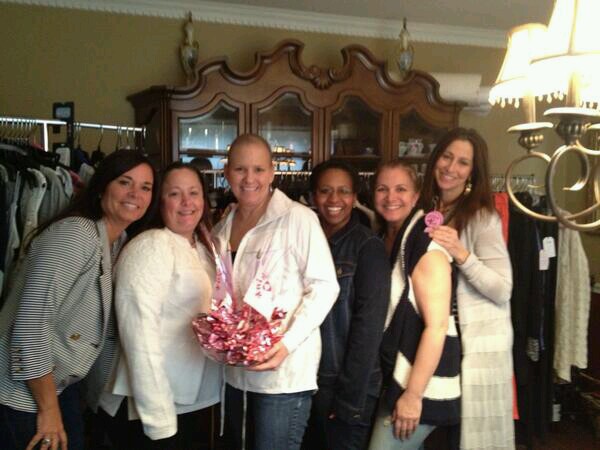 Striders 4 Steph: Avon Walk For Breast Cancer
UPDATED Germantown resident Susan Burkinshaw is spending most of her free time these days walking and it is all for a good cause.
Burkinshaw is the captain of "Striders 4 Steph," an 18-member team training for the Avon two-day walk for breast cancer set for May 3 – 4 in Washington, D.C.
"I've been doing the Avon Walk since 2003, when one of my friends, who was finishing chemo, did it, so we did it with her – some of us on this team are alumni of that team, and some of us on this team joined in subsequent years when our friend Robyn died and we kept walking," said Burkinshaw.
The other members on her team this year, include: Christina Atkinson, Stacie Berman, Yvette Bradle, Toni DePaul, Tanya Edwards, Stephanie Gebhardt, Colleen Leith, Milissa Long, Julia McCarty, Sandra McDarby, Jean Moccarski, Julie Parsley, Erica Petrolle, Ronda Plante, Shannon Riley, Lily Rogers and Laurie Schatz.
They are all Montgomery County residents, representing the communities of Boyds, Clarksburg, Damascus, Gaithersburg, Germantown, Olney, Rockville and Silver Spring.
"This is my 9th walk," said Burkinsaw. "Some team members have walked three to five previous [walks] and for many it is their first."
So how do they train to walk 39 miles in two days?
"We walk! Generally to Starbucks and back, or including Starbucks in our route," explained Burkinshaw. "Today we did an 11.5 mile walk, but our walks have generally ranged between 5-10 [miles]. We are going to try to do another couple of long walks on back-to-back days to help ease the pain of walking 26.2 miles on Saturday followed by 13.1 miles on Sunday the weekend of the walk."
According to the rules for the walk, each participant is required to raise $1,800 per person but Burkinshaw said her team members are trying to raise more.
"I have raised about $2,000 most years that I've walked," she said. "That puts me at about $18,000 for local breast cancer research in the Washington, D.C. region since I started walking. This year our team hopes to raise $40,000 together."
According to the Avon Walk for Breast Cancer website, Burkinshaw's team is currently in 8th place for all registered teams in the Washington, D.C. walk.
You can follow the fundraising progress of "Striders 4 Steph" online and you can donate here.
Since we began this article, the team moved up from 9th to 8th place compared to all other teams registered for this event.
What else should you know about this dynamic group of women?
"We are walking this year with our friend Stephanie, who just finished chemo last month – she wanted us to all walk together, including her mother, her sister and our friends," said Burkinshaw. "So we are walking!"
Of course they are. That's what friends are for.