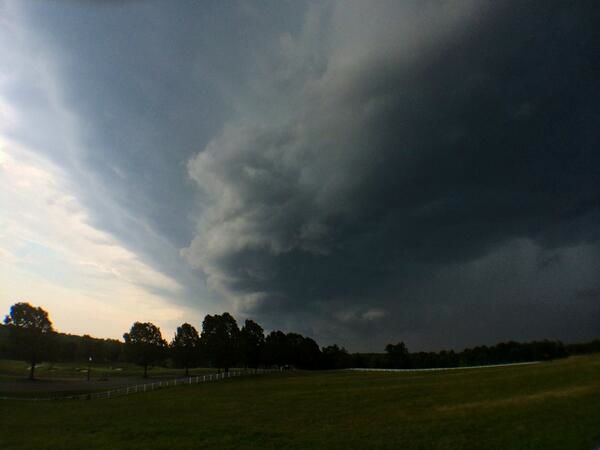 Strong Storms Knock Out Power to Thousands in Montgomery County
UPDATED A line of strong storms swept through Montgomery County around 6:45 p.m. on July 8 knocking out power to thousands of Montgomery County residents.
At 7:15 p.m., there were nearly 18,000 Pepco customers without power in Montgomery County, according to online outage maps. At 7:30 p.m., that number had climbed to over 24,000 customers. At 8 p.m., the number of Pepco outages in Montgomery County was up to 28,276. Shortly before 9 p.m., the number of outages had increased to 30,984 or about ten percent of Pepco's customers in Montgomery County. On July 9, at 6::30 a.m., there were still over 3,600 Pepco customers in Montgomery County without power.
If your power is out, and you are a Pepco customer, call 1.877.737.2662 to report the outage.
There were also reports of tree damage across the county, including a tree on a house on Lorain Avenue.
The severe weather also delayed and then canceled the Montgomery County Swim League's long course swim meet in Rockville.
Rainbow on a house Cherry Tree Ln & Lorain Av, Woodmoor pic.twitter.com/xku4Ty3DoE

— Pete Piringer (@mcfrsPIO) July 9, 2014
Woodmoor (Silver Spring) family ofm5 will be displaced – large tree crashed into house at 10621 Lorain Ave, no injury pic.twitter.com/9iwSid2i9O

— Pete Piringer (@mcfrsPIO) July 9, 2014
Rainbows over #SilverSpring pic.twitter.com/UJTJekYLif

— Fenton Village (@FentonVillageSS) July 9, 2014
Tree onto house – 1030 Seven Locks Rd, Potomac, structural damage

— Pete Piringer (@mcfrsPIO) July 9, 2014
In event of power Outage in MoCo – Report outages: BG&E 1-877-778-2222, First Energy 1-888-544-4877, or PEPCO 1-877-737-2662

— Pete Piringer (@mcfrsPIO) July 9, 2014
MoCo – numerous calls mostly for electrical issues, wires down, transformers, etc – majority of calls in Silver Spring & Potomac

— Pete Piringer (@mcfrsPIO) July 8, 2014
@mymcmedia We are out of power in Four Corners.

— JF (@Pinklavalamp) July 8, 2014
Sitting in a warm house getting hotter with no power in Kensington. It felt like a mini derecho with stuff flying around.

— Rich Madaleno (@RichMadaleno) July 8, 2014
Red Cross being requested to Lorain Av, tree into house,family of 5 will be displaced, no fire, no injuries, but significant property damage

— Pete Piringer (@mcfrsPIO) July 8, 2014
Tree on house 10621 Lorain Av, Forest Glen structural damage no injuries need bldg inspector

— Pete Piringer (@mcfrsPIO) July 8, 2014
@capitalweather Winds blew over the fence around the new Silver Spring library #WindGusts #StormIsComing pic.twitter.com/lvWaUCabfA

— Jessie (@Jessie_Curryean) July 8, 2014
Storm is packing some heavy winds in #silverspring pic.twitter.com/bsW8YitvBb

— Fenton Village (@FentonVillageSS) July 8, 2014
Strong storms moving into the region. If your power goes out, report it at 1-877-737-2662, http://t.co/TmY5c2XNjm or on our mobile app.

— Pepco (@PepcoConnect) July 8, 2014