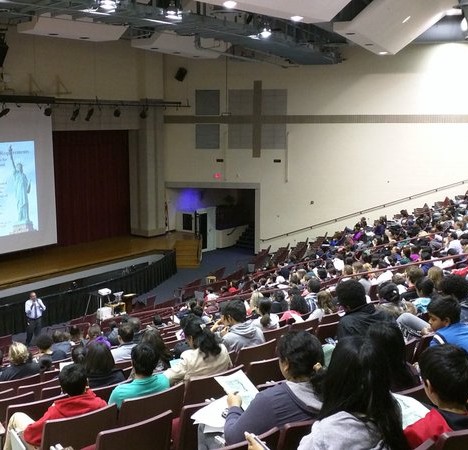 Students Have a Front Row Seat to Election With Future Vote Program (PHOTOS)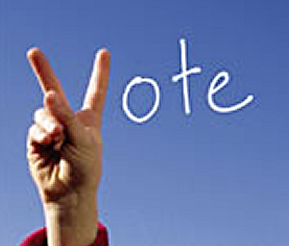 Nearly 300 students participated in orientation for the Future Vote Program organized by the Montgomery County Board of Elections (BOE) on Tuesday evening. The orientation took place in the auditorium of Northwest High School in Germantown from 7 p.m. to 8 p.m. 
The program offers a way for students in the County from grades 6-12 to get involved in the political process by serving as Election Day aides. Students will receive Student Service Learning (SSL) credits for their participation during the Presidential Primary on April 26.
The BOE has planned four additional orientations to take place throughout the month of March. Students and their parents must attend a mandatory training session in order to participate. 
March 2: Walter Johnson High School: 6400 Rock Spring Drive, Bethesda

March 7: Northwest High School: 13501 Richter Farm Road, Germantown

March 9: Northwood High School: 919 University Boulevard West, Silver Spring

March 11: Richard Montgomery High School: 250 Richard Montgomery Drive, Rockville
All orientation sessions will take place from 7 p.m. to 8 p.m. Although the deadline for entry into the program has passed, BOE Outreach Coordinator Gilberto Zelaya says that parents can reach out to him directly if their child would like to participate. You can contact Gilberto Zelaya by email at gilberto.zelaya@montgomerycountymd.gov or call the Board of Elections at 240.777.8533. 
Hundreds of students turn out for #FutureVoteProgram hosted by @777Vote @mymcmedia pic.twitter.com/1piVz5Mush

— Willie James Inman (@imwilljames) March 2, 2016
Voters will get to use new ballot marking devices during the April 26 Maryland primary election. @mymcmedia pic.twitter.com/Hzm90H0cJ2

— Willie James Inman (@imwilljames) March 2, 2016
Vinay and Navin say they want to be a part of the political process by participating in the #FutureVoteProgram pic.twitter.com/blyNtTlwHs

— Willie James Inman (@imwilljames) March 2, 2016
Gilberto Zelaya of @777Vote says young students need to be a part of the political process. @mymcmedia pic.twitter.com/Jnx7WRfXzH

— Willie James Inman (@imwilljames) March 2, 2016
Angie Rossignoli says she wants her daughter to learn more about the political process. @mymcmedia#Election2016pic.twitter.com/rhzACcBdUp

— Willie James Inman (@imwilljames) March 2, 2016
Related: