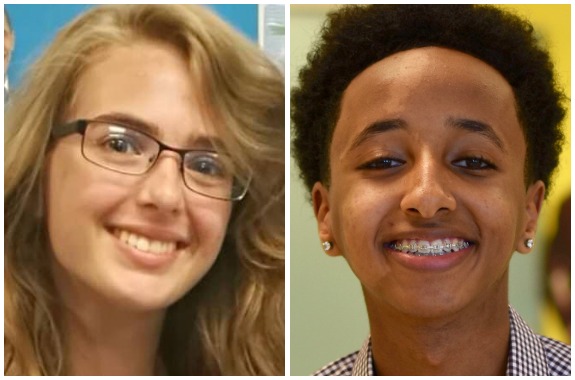 Students Tinbite and Tishaev Seek Position on School Board
Two Montgomery County juniors are vying to become student members of the Board of Education.
Zoe Tishaev, a 17-year-old junior at Clarksburg High School, and Nate Tinbite, a junior at Kennedy High School, each emerged from a nominating session held Feb. 27 at Watkins Mill High School.
Thirteen students applied to run for the position.
"Communication is my number one issue," Tishaev said. "No decisions about us, without us."
Tinbite said: "The main message of my campaign is the ZIP code of your school shouldn't determine the quality of your education."
The two are seeking to succeed Ananya Tadikonda, a Richard Montgomery High School senior whose term expires June 30.
Middle and high school students will be able to choose between Tinbite and Tishaev in an April 24 vote. The candidates are limited to spending $400 on the election and must not engage in negative campaigning, according to the election rules.
The student member is a voting member of the school board, who can vote on matters related to collective bargaining, capital and operating budgets, and school closings, reopenings and boundaries, according to MCPS. The student member cannot vote on personnel actions.
The SMOB is not paid, but receives a $5,000 college scholarship, student service learning (SSL) hours and one honors-level social studies credit.
Both candidates said the campaign was wreaking havoc on their school work.
"You have to have teachers willing to be patient with you," Tinbite said. "Running for SMOB is not an excuse for not getting work done."
Tishaev said she might get a few "interims" — notices from teachers that her grades are slipping.
"I'm missing out on instruction, and zoning out," Tishaev said. "It's definitely been tough." But she said she thinks she can rebound.
For more Tinbite's election website, click here.
For more Tishaev's election website, click here.