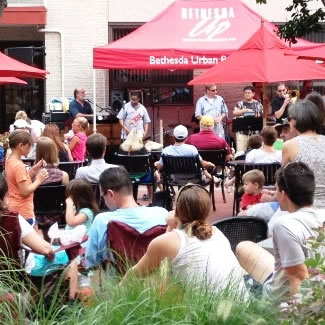 Summer Concerts Return to Bethesda's Veterans Park May 16
Free outdoor summer concerts return to downtown Bethesda Thursday evenings during May and June. The concerts, sponsored by the Bethesda Urban Partnership, offer a diverse range of music including rock, funk, blues, folk, and reggae.
The free concerts begin in May and take place on Thursday evenings, from 6 – 8 p.m. in Veterans Park, located at the corner of Woodmont and Norfolk Avenues.
Residents are invited to purchase food, beer and wine from downtown Bethesda restaurants during the concert. No outside alcohol is allowed.
Schedule of Concerts
May 16
Brent & Co. (Rock/Country)
Food and Drink by: Dog Haus Biergarten
May 23
Moxie Blues Band (Blues/Rock)
Food and Drink by: Rock Bottom Restaurant & Brewery
May 30
19th Street Band (Folk)
Food and Drink by: Smoke BBQ
June 6
Oasis Island Sounds (Reggae)
Food and Drink by: Hanaro Sushi
June 13
Hall Williams Band (Funk)
Food and Drink by: Dog House Biergarten