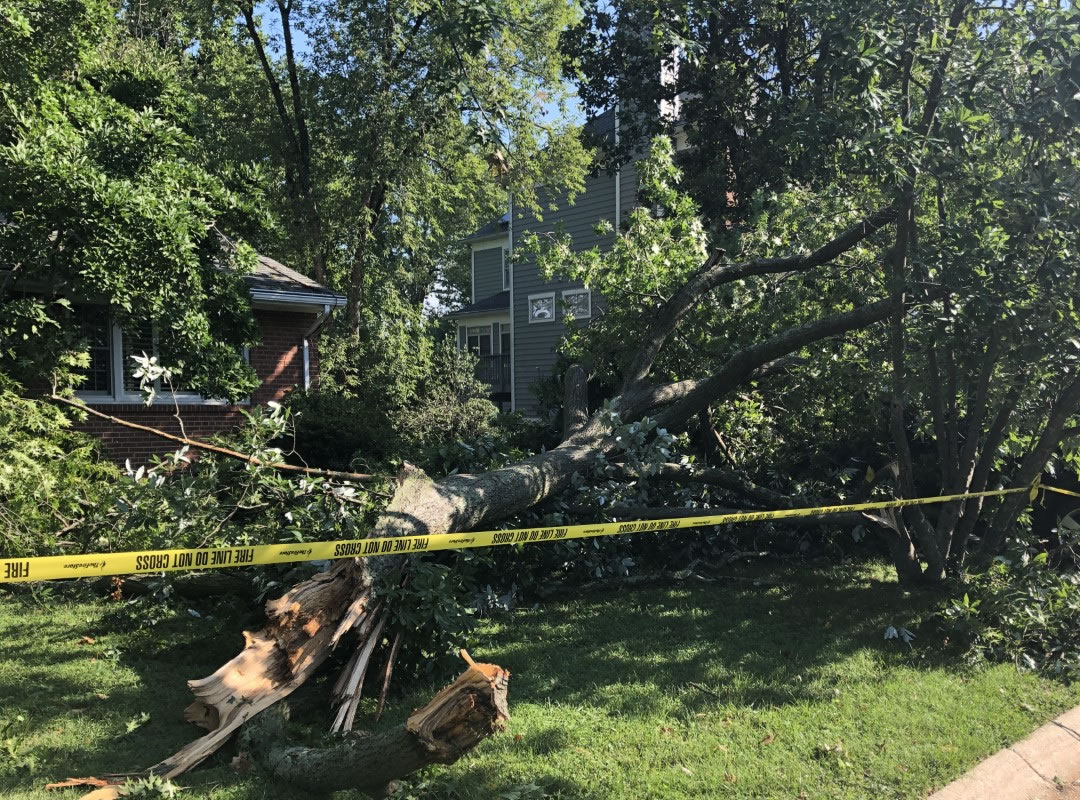 Sunday Evening Storms Leave Significant Damage
Severe thunderstorms in Montgomery County Sunday evening took down several trees along with power lines throughout the county. The thunderstorms followed an intense heatwave causing temperatures to rise into the high 90's over the weekend.
The heavy rain and high gusts of wind caused trees to crash into homes and roadways, leaving many residents without power throughout the region.
Pete Piringer, spokesman for Montgomery County Fire and Rescue Services, tweeted out pictures of damage from the aftermath of the storm.
Update – Bethesda Stratton Woods neighborhood (near FS726 – Democracy Blvd) off of Fernwood Rd, widespread (neighborhood) power outage & debris, many roads blocked, trees down, including 9900 Harrowgate Dr.(large tree struck home) & tree down on Inglemete Dr pic.twitter.com/PBjHBd8uam

— Pete Piringer (@mcfrsPIO) July 22, 2019
1700 block Wilmart St, Rockville, tree on a house w/wires down (just occurred this morning). No injuries. PEPCO enroute. The storms have passed but the damage keeps coming!!!!! pic.twitter.com/opljfp27YF

— Pete Piringer (@mcfrsPIO) July 22, 2019
Sunday's storm packed a wallop as these pictures of a downed tree at a Bethesda home show. ⁦@mymcmedia⁩ pic.twitter.com/sOMCSc6zaw

— Joe Yasharoff (@JYash) July 22, 2019
Pulled over on the side of the road and now watching car after car drive through flooded intersection at River Rd and Counselman Rd in Potomac, MD #mdwx #turnarounddontdrown ⁦@capitalweather⁩ ⁦@mymcmedia⁩ pic.twitter.com/evjT9YuwpF

— Carolyn Raskauskas (@CarolynRask) July 21, 2019