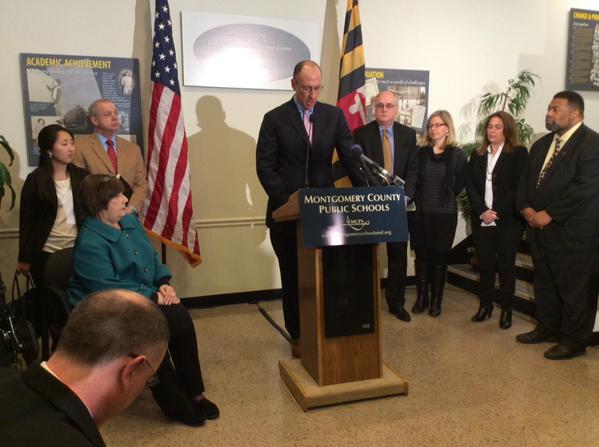 MCPS Superintendent Joshua Starr Resigns (PHOTOS)
Dr. Joshua P. Starr, Montgomery County Public Schools Superintendent, and the Board of Education (BOE) announced Starr's resignation today to be effective on Feb. 16. The announcement followed  a closed school board session meeting where the board voted unanimously to approve the superintendent's resignation.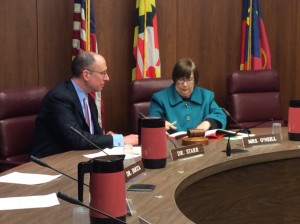 The Board recommended Larry A. Bowers, MCPS CEO, to serve as acting superintendent of schools. The appointment is subject to approval by Maryland State Superintendent of Schools Lillian M. Lowery. Bowers has served as the school system chief operating officer for the past 16 years.
Under the agreement approved Tuesday, Dr. Starr will receive the remainder of the salary he is owed under his contract, payment for any unused sick and annual leave in accordance with his contract, and health insurance benefits through June 30,  2015. That benefit package amounts to a $46,583.96 payout. The agreement also compensates Starr the deferred compensation benefit and payment of his attorney's fees incurred in connection with the agreement of up to $2,000.
The agreement also states that Starr is not to represent the school board at meetings, conferences, conventions and seminars. This comes at a time when the school board is working to obtain valuable and elusive school funding from the state coffers.
At the press briefing following the announcement, School Board President Patricia O'Neill told members of the press she had a good working relationship but would not specify why Starr had lost the confidence of the board.
Starr would not answer directly why he believed he was not offered a second term on his contract saying only, "don't get into a fight you aren't going to win."
Starr would not answer when asked his plans for the future, but said he would continue his work in public education.
As for the school board, O'Neill said the school system will be hiring an outside firm to find Starr's replacement.
"MCPS employees will have an opportunity to have their voices heard as part of the search process which will begin in the coming weeks with the hiring of an outside firm to guide us in this work. In 2011, the school system hired Hazard, Young, Attea & Associates at a cost of $35,000. HYA conducted the search that brought Superintendent Jerry D. Weast to Montgomery County Public Schools in 1999. Weast resigned from his post June 30, 2011.
Doug Prouty, president of the Montgomery County Education Association, would not comment on whether his organization favored Starr's resignation. He said MCEA was looking forward to working with the school system's next superintendent "to address the issues of race and equity that face our schools and our community; to ensure that all of our students have the best opportunities to learn and be successful."
.@mcpssuper will be paid through June 30, 2015 including all leave allotted in his contract, according to @mocoboe news release.

— krista brick (@lmjpbrick) February 3, 2015
.@mocoboe agreement states neither @mcpssuper or @mocoboe can make "disparaging remarks" regarding the other. — krista brick (@lmjpbrick) February 3, 2015
@mcpssuper not happy about way things turned out. pic.twitter.com/9uy4O9cm4i

— Sonya Burke (@SonyaNBurke) February 3, 2015
@mcps hopes to have new superintendent in place by July 1. pic.twitter.com/PqBgTPw6nO — Sonya Burke (@SonyaNBurke) February 3, 2015
.@mcpssuper will be paid out about $46,000 in unused vacation and sick leave, according to @mocoboe news release.

— krista brick (@lmjpbrick) February 3, 2015
Reltated: