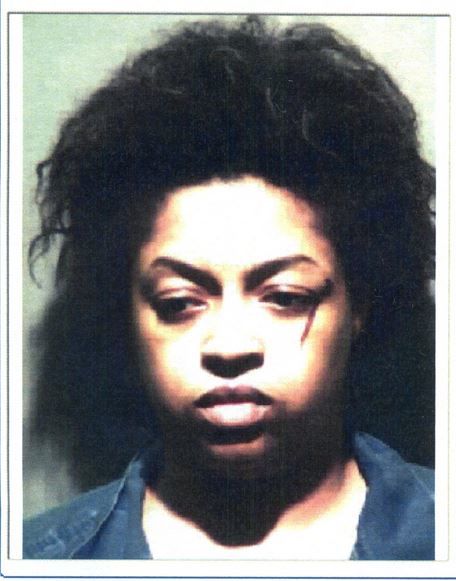 "Cases Like This are Heartbreaking" Chief Manger (Photos & Videos)
UPDATED Montgomery County police have charged a 28-year-old woman with murder in the deaths of two of her children.
On Jan. 17, Montgomery County police officers responded to the 19000 block of Cherry Bend Drive in Germantown where they discovered four children that had been assaulted. Police said two of the children were pronounced deceased on the scene and the other two were transported to a hospital for treatment of their injuries. In addition, a 21-year-old woman was transported to a hospital for medical treatment. The children's mother was on the scene but was uninjured.
Detectives have now charged the children's mother with two counts of first degree murder and two counts of attempted first degree murder. Police have identified the mother as Zakieya Latrice Avery, age 28, of the 19000 block of Cherry Bend Drive in Germantown. She was taken to police headquarters from the scene where she was interviewed and subsequently charged. She is currently being held without bond.
Police have identified the deceased children as Norell N. Harris, a 1-year-old male, and Zyana Z. Harris, a 2-year-old female. The other two children are still hospitalized. They are identified by police as Taniya Harris, a 5-year-old female and Martello Harris, a 8-year-old male.
"Cases like this are heartbreaking" said Montgomery County Police Chief Tom Manger. "Our thoughts are with the family and friends of the victims along with the 911 operators, police officers, evidence technicians, and fire and EMS personnel that responded."
No other charges have been placed. The investigation is continuing and detectives ask that anyone with information call the Major Crimes Division at 240.773.5070.
For more coverage, see our post about a second arrest: https://www.mymcmedia.org/police-charge-second-woman-in-germantown-murders/
—
Montgomery County police are investigating the homicide of two young children who were discovered this morning (Jan. 17) in Germantown.
According to a police account, at approximately 9:30 a.m., 5th District patrol officers were dispatched to a suspicious situation in the 19000 block of Cherry Bend Drive in Germantown. Police said a resident of the neighborhood had called 911 after they noticed a vehicle with the door open and a knife laying outside of the vehicle.
Officers subsequently made entry into a nearby townhouse where they found two adult females and four children. One of the adults fled out a rear door but was quickly taken into custody, police said. Two of the children were pronounced deceased. The other two children, along with the other adult female, were transported to local hospitals for treatment.
It was determined that officers had been dispatched to this residence last night (Jan. 16) after a resident noticed an unattended child in a car. Prior to officers arriving, two women exited the townhouse, retrieved the child, and re-entered the home. Officers attempted to speak with the residents but received no response at the door, police said. Montgomery County Child Protective Services was notified about the report and was asked to follow up on this incident.
Detectives have determined that one of the women in the residence is the 28-year-old mother of all four children (taken into custody). The other woman, age 21, is not believed to be a family member but is believed to have lived at the residence. Police said the identities and ages of those involved will be released following next of kin notification.
Anyone with information about this case is asked to call detectives at the Major Crimes Division at 240.773.5070. Callers that wish to remain anonymous should call Crime Solvers at 1.866.411.TIPS.
ORIGINAL POST
Montgomery County police are investigating the suspicious deaths of two young children who were found in the 19000 block of Cherry Bend Drive in Germantown on Jan. 17. Captain James Daly of the Montgomery County Police Department said two other children were injured as well as a woman and they have been transported to the hospital where they are all being treated for their injuries. According to police, another woman is being questioned by police. Police said they do not know how the six people are related at this point of the investigation. The inside of the townhouse, where they were found, has been described as "bloody." State's Attorney John McCarthy was also at the scene today. Watch these MyMCMedia extras for more:
Update: 1 adult in custody, currently being questioned by PD. No suspects believed to be at large.

— Montgomery Co Police (@mcpnews) January 17, 2014
Update: The 2 susp death victims are children. 3 others are injured – 2 children, 1 adult. Those 3 are currently being treated at hospitals.

— Montgomery Co Police (@mcpnews) January 17, 2014
Police investigating 2 suspicious deaths in the 19000 blk of Cherry Bend Dr. Call received at 9:31 a.m. PIO en route.

— Montgomery Co Police (@mcpnews) January 17, 2014
Update: The 2 susp death victims are children. 3 others are injured – 2 children, 1 adult. Those 3 are currently being treated at hospitals.

— Montgomery Co Police (@mcpnews) January 17, 2014
Update: 1 adult in custody, currently being questioned by PD. No suspects believed to be at large.

— Montgomery Co Police (@mcpnews) January 17, 2014

Related:

One of the self-proclaimed Demon Assassins, Monifa Sanford, appeared in Montgomery County Circuit Court Wednesday as a trial date was set in her case. Sanford, along with her friend Zakieya Avery called themselves "Demon Assassins" in the brutal stabbing of four children to rid them of alleged demons who they told police had invaded the […]