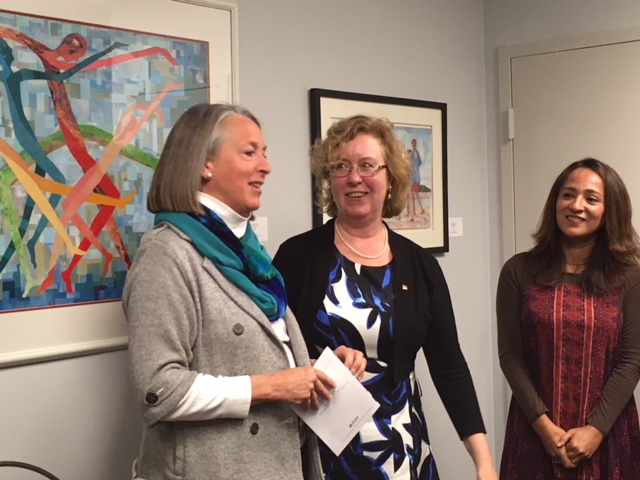 SVN Showcases Peruvian-American Art During New Location Grand Opening
SVN | Wright Commercial, a commercial real estate brokerage firm, celebrated its new location in Rockville with a ribbon-cutting and open house on Friday.
The ceremony which took place at its new office, located at 1570 E. Jefferson Street, featured a reception for local artist Roxana Rojas-Luzon.
Maryland State Senator Cheryl Kagan, Rockville Mayor Bridget Newton, and Montgomery County Councilmember Sidney Katz were also in attendance.
For the past two years, staff at SVN | Wright has combined their love for art and commitment to the community to support a local artist while bringing people from all walks of life and businesses together for community development and shared appreciation of local artists.
Rojas-Luzon was born in Piura, Peru and began exploring the art of collage when she first became pregnant since toxic paint fumes could "harm my unborn child," she said.
The use of glue and paper, according to Rojas-Luzon, allowed her to create light, motion and contrast in her pictures.
Staff at SVN | Wright Commercial said hosting a local artist is a great way to being the community together.
"Art is a very important part in having a reasonable and full life and I think its neglected and not celebrated enough," Nancy Stevenson, marketing director for SVN, said.
Rojas-Luzon's art will be display until January.  Contact at SVN| Wright to schedule a time to observe her work by clicking here.