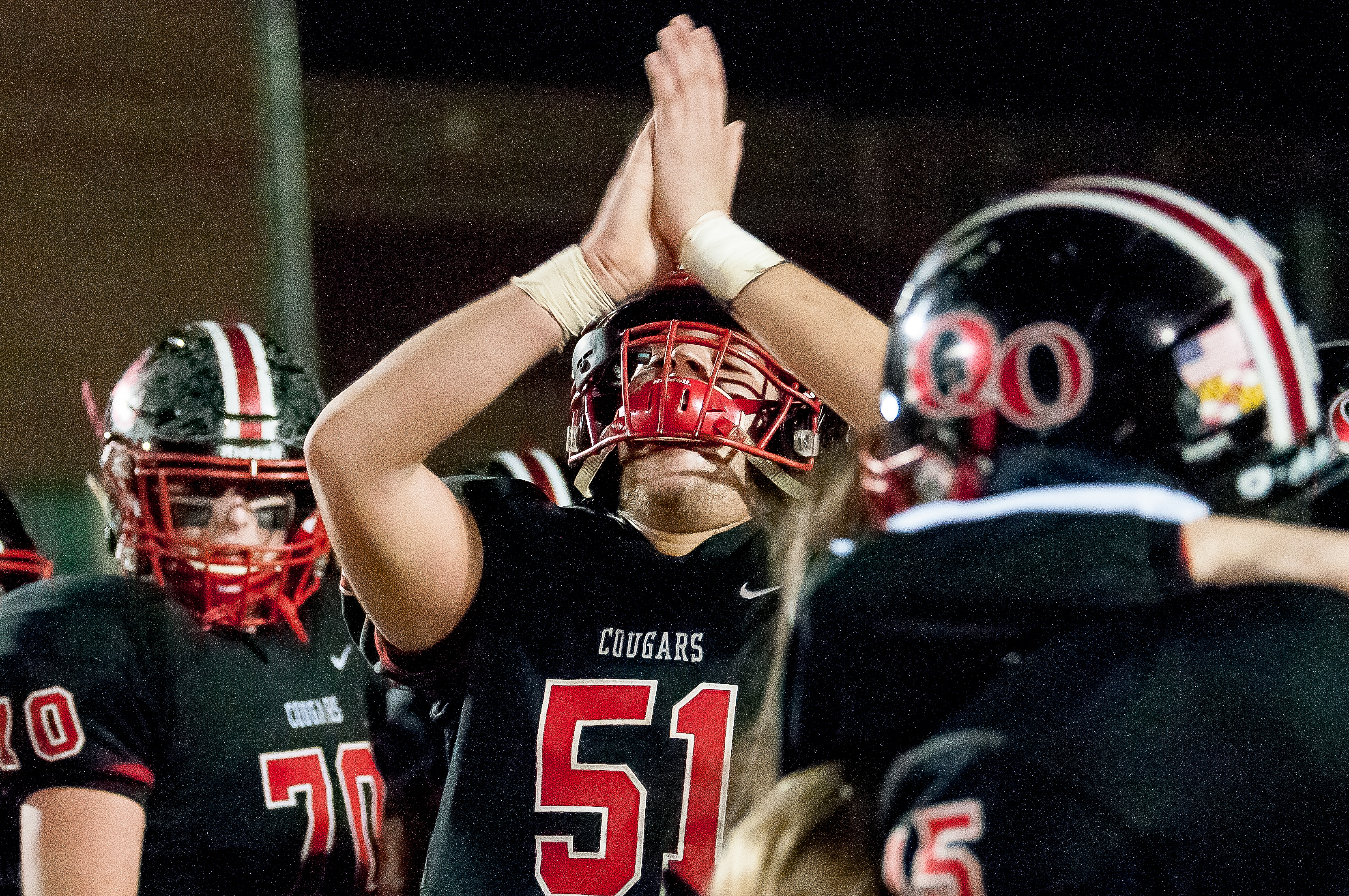 Taking It One Game at a Time
A standing room only crowd surrounded the entire football field at Quince Orchard High School on Friday, November 25th in what would be the last home crowd of the season.  In this match up between two schools with a 11-1 record the Annapolis Fighting Panthers would experience life inside the Cougar Dome for the first time ever.
The Cougars would prevail on this evening with a 42-14 win over the Panthers and book a date against the Wise Pumas in two weeks for a championship rematch between these power teams.  It was in 2011 both teams met in Baltimore with the Puma's taking the championship with a 12-7 win.  QO would return the following year, 2012, to lose by 1 point to Old Mill 36-35.
But on this night it was all QO as Annapolis found it difficult to get and keep momentum against a stout QO defense.  Annapolis's running back Cameron Hough finished with 126 yards after being held for three yards in the first half.  Hough added 65 of those yards in the 4th quarter when he broke through the QO secondary for a touchdown.
QO's Doc Bonner ran for two touchdowns and passed for one while Marvin Beander rushed for two short yardage TD's. The Cougars finished this evening with 299 offensive yards, 125 on the ground and 174 passing.
The state championship game moves to Annapolis this year due to changes made at M&T Bank Stadium when the Ravens converted their turf field to a grass field.  Previously MPSSAA would hold four championship games in a week in the stadium and that type of future use could have impacted the Ravens facility for the remainder of the season. Alternately, MPSSAA gained access to the Navy-Marine Corps Memorial stadium for what would have been a championship week during the first of December.
The bad news for the high school championship playoffs is that Navy continued to win and ended up hosting their league championship game on December 4th which conflicted with the state playoffs.  The good news is that all teams get one more week of practice, time to recover and prepare for their opponents.  In the case of QO they could use the time since it is facing the #2 team in the DMV win Wise who is undefeated over the past two seasons.
Bottom line – take it one game at a time.
Photos | 2016 © Phil Fabrizio for MCM and 2016 © Daryl Schultz
Twitter: @Photoloaf