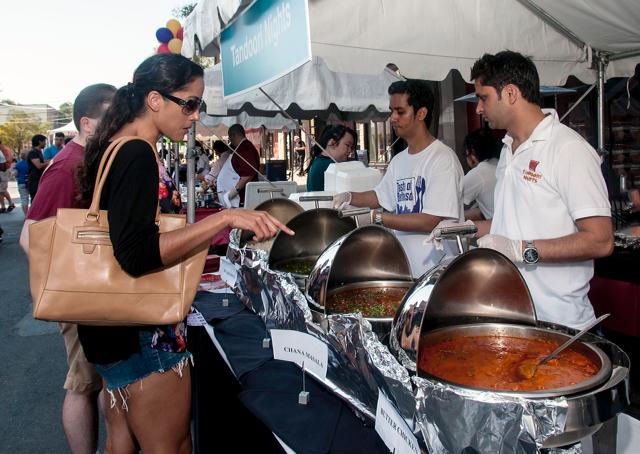 Taste of Bethesda Returns Oct. 1 (VIDEO)
Save the date: The Taste of Bethesda takes place on Saturday, October 1st from 11 a.m.-4 p.m. and will include over 50 restaurants and five stages of entertainment at Woodmont Triangle.
The Taste of Bethesda is located on Norfolk, St. Elmo, Cordell, Del Ray and Auburn avenues in the heart of Bethesda's Woodmont Triangle.  Five stages showcase musical and cultural performances, and a children's area featuring art and craft activities, balloons and face painting will provide additional entertainment for young visitors.  More than 45,000 attendees enjoy Taste of Bethesda each year.
Several new restaurants will debut at Taste of Bethesda this year: Duck Duck Goose, Fish Taco, Gold Leaf Bakery, Modern Market, Quincy's Bethesda and Tropical Smoothie Café. Returning favorites such as Georgetown Cupcake, Jaleo, Louisiana Kitchen & Bayou Bar, Mussel Bar, Olazzo, Ruth's Chris and many more will also be in attendance this year.
The sounds of 8 Ohms Band, Black Masala, Elikeh, Justin Jones (2016 Bernard/Ebb Songwriting Awards Winner), Margot MacDonald, Oasis Island Sounds, Olivia Mancini and Verny Varela will fill Woodmont Triangle during Taste of Bethesda. The cultural music and dance stage will feature Coyaba, Furia Flamenca, Jayamangala, Lesole's Dance Project and Teelin Irish Dance Company.
Admission to Taste of Bethesda is free. Tickets will be sold on-site to "taste" different foods; tickets are $5 for four tickets and a serving costs one to four tickets.  The event is located three blocks from the Bethesda Metro station.  Free parking is also available in downtown Bethesda's public garages.  The free Bethesda Circulator will transport visitors to and from the Bethesda Metro station and public garages.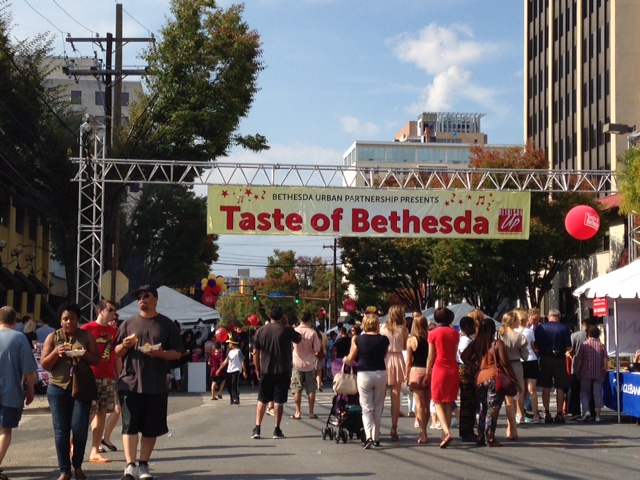 Entertainment Schedule
St. Elmo Stage
11:15 a.m. – Justin Jones (Rock)
1:15 p.m. – Elikeh (Afro-pop)
 Cordell Avenue Stage
11:15 a.m. – Black Masala (Funk/Soul)
1:45 p.m. – Oasis Island Sounds (Reggae)
 Norfolk Avenue Stage
11 a.m. – 8 Ohms Band (Funk)
1:30 p.m. – Verny Varela (Latin)
Auburn Stage
11 a.m. – Furia Flamenca (Flamenco)
12 p.m. – Lesole's Dance Project (South African)
1 p.m. – Teelin Irish Dance Company (Irish)
2 p.m. – Jayamangala (Indian)
3 p.m. – Coyaba (West African)
Veterans Park
11 a.p.am – Margot MacDonald (Indie-Pop)
1:30 p.m. – Olivia Mancini   (Folk-Pop)