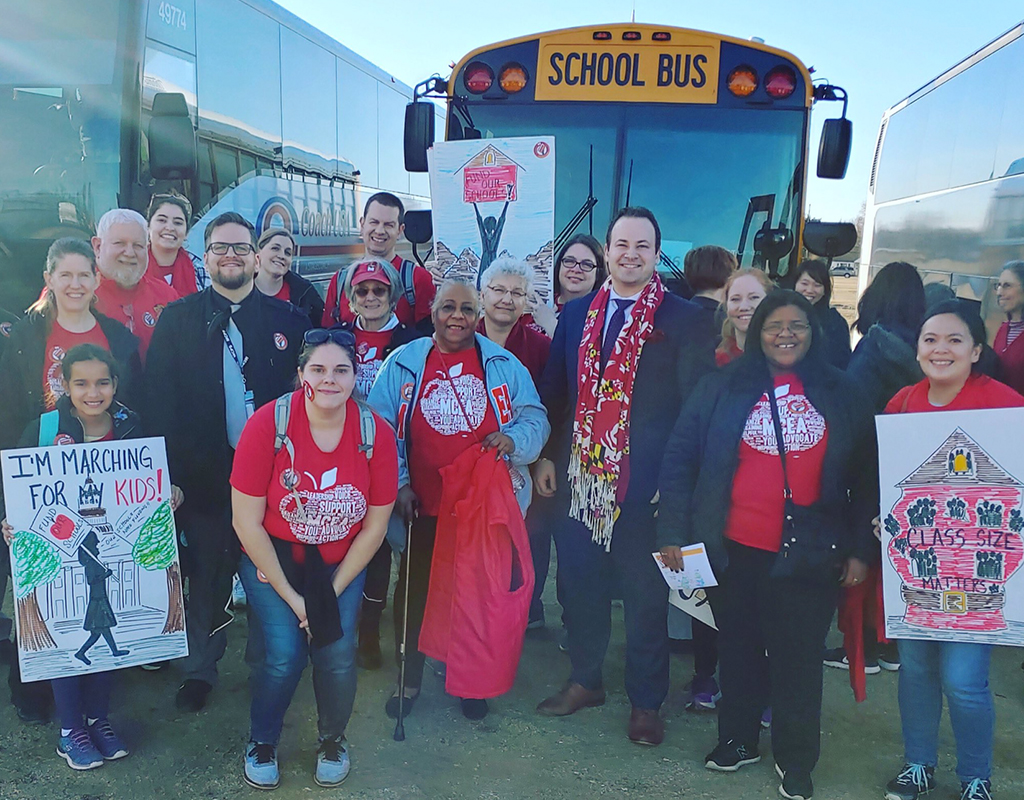 Teachers, County Officials March For Education Funding in Annapolis
Thousands of teachers took buses to Annapolis Tuesday to march in support of increased education funding in the state of Maryland. County leaders including councilmembers, leaders from the Board of Education, and the county executive joined teachers in solidarity for the march.
In a social media message to MCM, Councilmember Andrew Friedson said that his experiences as a former Montgomery County Public Schools student and son of an MCPS teacher made attending the march especially important.
"As the son of a former MCPS teacher and the proud product of our great Public Schools, I was honored to ride the bus with local educators and inspired to join more than 8000 teachers and advocates from around the state to march for our schools," said Friedson.
According to The Washington Post, Maryland teachers say that schools have been "underfunded by as much as $2.9 billion per year."
The Post says, "Lawmakers in Annapolis are weighing the largest overhaul of school funding in nearly two decades to fund proposals that would expand prekindergarten, give teachers a 10 percent raise, enhance grants in the state's poorest areas and place tougher standards on teachers, among other things."
This "policy rewrite," according to The Post, is "based on recommendations from the Kirwin Commission." The commission "spent more than two years reviewing shortcomings in Maryland public education and comparing the state with the best systems in the world."
The results from the commission suggest that Maryland high school graduates aren't ready for college because "fewer than 40 percent […] can read at a 10th-grade level and pass a standardized Algebra 1 exam," according to The Post.
Friedson told MCM that it's important for the state to fund public education, "as the Maryland Constitution requires, which means the Kirwan Blue Print for Maryland's Future and school construction funding that reflects our county's growing enrollment."
"I want to make sure we fund our schools and pay our teachers what they need and deserve so every student has the same opportunity for a world class public education as I received in Montgomery County," said Friedson.
Senator Chris Van Hollen spoke at the rally in Annapolis about the need to take care of teachers.
"We cannot and will not accept a system where almost half — almost half —  of our teachers leave the profession after just their second year of teaching," said Van Hollen.
According to The Post, "Senate President Thomas V. Mike Miller Jr. (D-Calvert) and House Speaker Michael E. Busch (D-Anne Arundel) introduced legislation to allocate $325 million next fiscal year for 10 Kirwan initiatives. The legislation would provide $725 million the following year."
The Post says that Gov. Larry Hogan has previously said that increasing education would mean that tax money needs "to be tied to school accountability measures."
"Hogan has introduced several proposals to increase state oversight on local school spending, but they have not been embraced by Democrats," says The Post.
Highlights from the Teacher March in Annapolis
Take a look at WJZ-13's coverage of the event in the video below.
Here's a look at Montgomery County teachers and leaders experience at the event based on their social media feeds.
Teachers, County Officials March For Education Funding in Annapolis