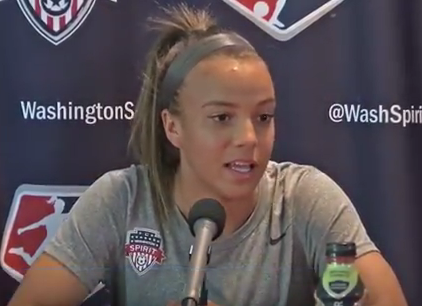 Teen Soccer Star Mallory Pugh Begins Training with the Washington Spirit (VIDEO)
Forward Mallory Pugh, who recently celebrated her 19th birthday, is now training with the Washington Spirit as she prepares to make her National Women's Soccer League debut on Saturday night against FC Kansas City.
At a news conference on Tuesday, Pugh said her new teammates have been extremely welcoming and she said there were smiles all over the field at her first practice session.
"I can really tell that everyone is just having fun but is also very competitive and wants to get better, and that is the vibe I got out of today, and I just love it," Pugh said.
Head Coach Jim Gabarra described Pugh's acquisition as "a historical, monumental moment for the women's game."
He also said she has a lot to learn.
"It is important that we not have too high expectations for Mallory," Gabarra said. "This is a long process, whether it is a 19-year-old or a 30-year-old international who has not played in our league. It takes almost a year of games to really feel comfortable and figure it out … We're welcoming the injection of energy and youth and quality that she is going to bring, without setting the bar way, way high for her. She is just like any other player that has come in, and we will have to remind ourselves that she is 19 but we are trying to treat her as just another player on our roster."
Watch the entire news conference, below:
The Spirit plays its next game on Saturday at the Maryland SoccerPlex against FC Kansas City. You can find out more about Pugh, here.
Let's #PackthePlex this Saturday for @MalPugh's debut as a pro player and as a member of the #SpiritFam!!! TICKETS: https://t.co/fycf0Busla pic.twitter.com/joyVnCMn78

— Washington Spirit (@WashSpirit) May 15, 2017
Team leaders officially welcoming @MalPugh to the #SpiritFam!!! #WelcomeMal pic.twitter.com/Yyq6COMPQn

— Washington Spirit (@WashSpirit) May 16, 2017
We're excited to formally introduce our newest #SpiritFam member, @MalPugh! #WelcomeMal pic.twitter.com/l4u5OfcJeq

— Washington Spirit (@WashSpirit) May 16, 2017