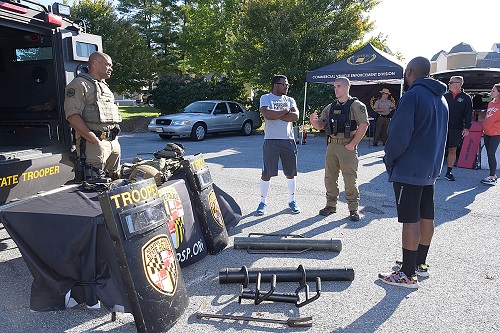 Test Your Strength in the Md. State Police Fitness Challenge
The Maryland State Police is inviting residents to test their strength during its annual fitness challenge next month.
Participants will run a 3 mile course while performing body weight exercises such as burpees, push-ups, sit-ups, and jumping jacks. Body weight movements such as bear crawls and crab walks will also be included in the workout to incorporate all facets of the police department's Functional Fitness Assessment Test (FFAT).
The goal of the fitness challenge is to simulate the physical demands placed on law enforcement professionals and a networking opportunity for those interested in pursing a career with the Maryland State Police.
To register for the event, which takes place on April 7 at Assateague State Park, click here. 
Test your skills against @mdsp troopers in Maryland's Finest Fitness Challenge. Think you have what it takes? Register at https://t.co/LjJ9R2bpe4 #MDFit pic.twitter.com/LAnVHmCX6o

— MD State Police (@MDSP) March 8, 2018
Show that you have what it takes to be a @mdsp trooper. Register for Maryland's Finest Fitness Challenge, set for April 7 at #Assateague State Park. >> https://t.co/LjJ9R2bpe4 pic.twitter.com/A8vzr47Vbp

— MD State Police (@MDSP) March 8, 2018