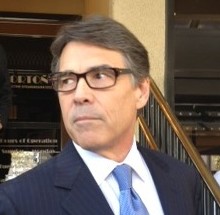 Texas Governor Rick Perry Visits Bethesda (Photos & Videos)
Texas Governor Rick Perry visited Montgomery County on Sept. 18. He met with some Maryland Republicans and business people during a lunch reception at Morton's in Bethesda.
The Governor said he is in Maryland to discuss red state versus blue state policies and to talk to business owners about business opportunities in Texas. During his press conference, he touted competition as a good thing. Tonight, Perry and Maryland Gov. Martin O'Malley are scheduled to debate each on Crossfire.
Before you watch that debate, you can watch Perry's press conference outside Morton's in its entirety right here:
In recent weeks, Perry has released a "Think Texas" TV spot (see below) in hopes of wooing businesses from Maryland to Texas.