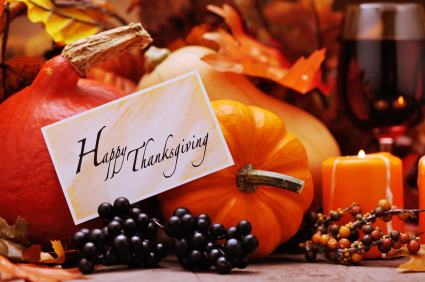 Thanksgiving Tips for Parents
Thanksgiving is about a week away. It is often a time to gather with family and friends and enjoy time together as well as hopefully good food.  However, children and teens, sometimes misbehave or act in ways that take away from the enjoyment of the holiday. Here are a few tips to incorporate child and teen-friendly activities into your Thanksgiving holiday to allow everyone to enjoy it to the fullest.
1)      If you are cooking and hosting the holiday yourself, plan ahead with activities to keep your children occupied while you get everything ready. This may mean sending your children out of the house for a few hours with their other parent/family members, having a playdate, or have activities on hand to keep them occupied.
2)      Come up with things that your children and teens can do to help set everything up (i.e., make and put out place cards, napkins, set the table, etc.). This helps you and keeps your children/teens occupied.
3)      For young children, provide them with activities that they can do away from the main table if they don't want to sit for the whole meal. Activities could include coloring, playing board games, playing sports in the basement, etc. You could even design Thanksgiving bingo for them to play together. Tell them ahead of time what your expectations are for them as to what parts of the meal they need to be present for. You could also put children at their own table and allow them to color at the table during the meal.
4)      If your children and teens frequently fight with each other, remove items that are frequent causes of conflict (i.e., video game console, specific toys).
I hope all of you have a wonderful Thanksgiving Holiday!
Copyright 2014 Carey A Heller, Psy.D.
In addition to regular blog updates, you can follow me through The Heller Psychology Group's Social Media pages for daily postings of useful articles:
*Disclaimer: The previous information is intended as general guidance based on my professional opinion, does not constitute an established professional relationship,  and should not replace the recommendations of a psychologist or other licensed professional with whom you initiate or maintain a professional relationship*