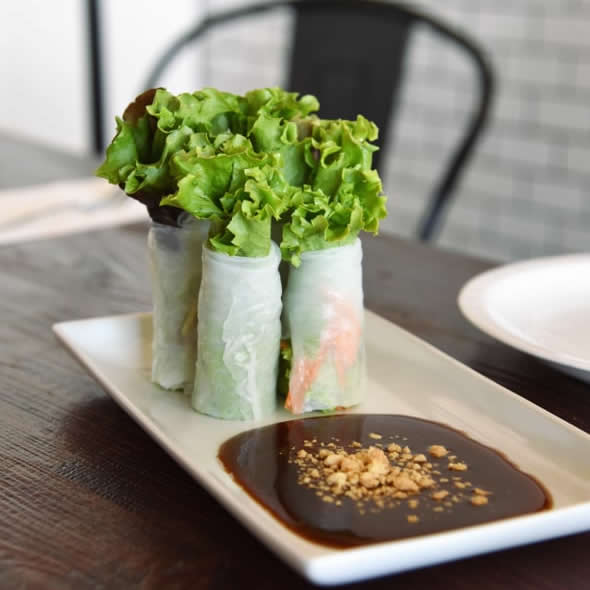 The Almighty Avocado
Once someone says that there is avocado on that menu item, you're 50 percent more likely to order it — true or false? If you answered true, have we got a treat for you. Join us avocado aficionados, on a tour de avo across the whole of the cado.
Kittiwat Thai Kitchen 
Up in Frederick, in one of the most unassuming shopping centers there is, sits Kittiwat Thai Kitchen. Their presentation is beautiful, their food is delicious and the design makes you feel like your in a hip downtown D.C. pop-up restaurant. Sheena V writes, "This is the best Thai restaurant my husband and I have been to in Frederick, MD. Tried the avocado summer rolls …. OMGAAH so delicious and the sauce!"
Full On Craft Eats & Drinks
Let's let L.B. break it down for ya: "Good selection of local beers. Good selection of sandwich choices… I definitely plan on returning. I had the turkey and avocado sandwich and it was excellent! Super fresh bread too!" All this fresh deliciousness comes to you from a former Hells Kitchen contestant and an owner who's creedo is perfection.
Busboys And Poets
The ever expanding D.C. born restaurant is known for having a hearty vegetarian friendly menu. "I really enjoyed my experience here! I had a lot of fun. I came on poetry open mic night and all of the performers were excellent. I ordered the avocado panini with a side caesar salad and it was good to the last bite." B.C. writes.
Cafe Azul
Located near the heart of the arts district in Hyattsville is Cafe Azul. Their serving up a taste of Columbian, with a dash of Venezuelan, and a pinch of Cuban. But for this issue, we're here for their chicken and avocado arepa; a sandwich built on a flat griddled patty of corn flour. Split in half, shove in some creamy avocado, and you'll have us runnin' towards your door.
Founding Farmers
"A perfect Sunday indulgence. My kids love the burgers with avocado and bacon, and my husband tries a new dish every time and has yet to be disappointed. A must visit for sure!" Sandra H writes. Question: How do we get to be part of Sandra H's family?