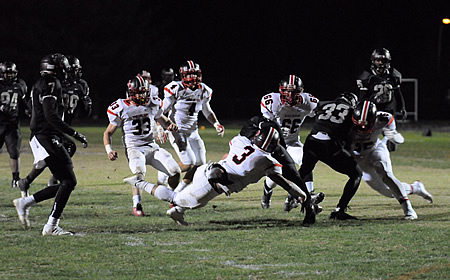 The Biggest Cat Fight of Them All
This article will be brief because I am only going to talk about one thing… Quince Orchard vs. Northwest, The Cat fight, QO vs. NW, The rematch.
Whatever you call the most anticipated rematch in Maryland is up to you but we can all agree that this game will be amazing. When these two teams met in the regular season Northwest got drubbed by QO in a 52-27 loss. Northwest was shocked just like all of Montgomery County when QO pulled of the upset at Northwest. This time the game will be at the "Cougar Dome" and I can promise you that "The Red Army" will be roaring louder than ever as they try to make it to the state semifinals. Last season Quince Orchard had two blemishes on their record. One to Northwest in the regular season and one in the playoffs to none other than Northwest. In a way, this is a revenge game for both teams.
QO definitely had the tougher playoff opener as they took on Clarksburg and won 21-14. Northwest faced Blair and ran away with the game to win 38-3. If Northwest can edge QO on Friday then everyone will forget about how QO hammered them in the regular season.
Let's cut to the chase and skip the drama! It's time for me to give my pick for the biggest cat fight in Maryland.
Predicted Winner: Northwest Jaguars advance to the state semifinal game
The Northwest Jaguars looked very impressive against Blair and I think they will impress again on Friday. Quince Orchard got the harder match up and will be a little more worn down. I believe that Northwest will have a head full of steam and that will result in a Quince Orchard loss. I'm pretty sure we won't see a blowout game on Friday because both teams will be at their best. I believe that Northwest will get the better of QO and walk out of the Cougar Dome with a win. Sorry QO fans but I believe Mark Pierce will be hot and the defense will make some big game changing plays. My offensive player of the game is Mark Pierce. When he plays well Northwest is very hard to beat. Last time against QO he threw more than one interception. On Friday, I think he will have a perfect night. My defensive players of the game will be the Northwest Defensive line. If they can slow down the rush attack and force quick throws QO won't stand a chance.