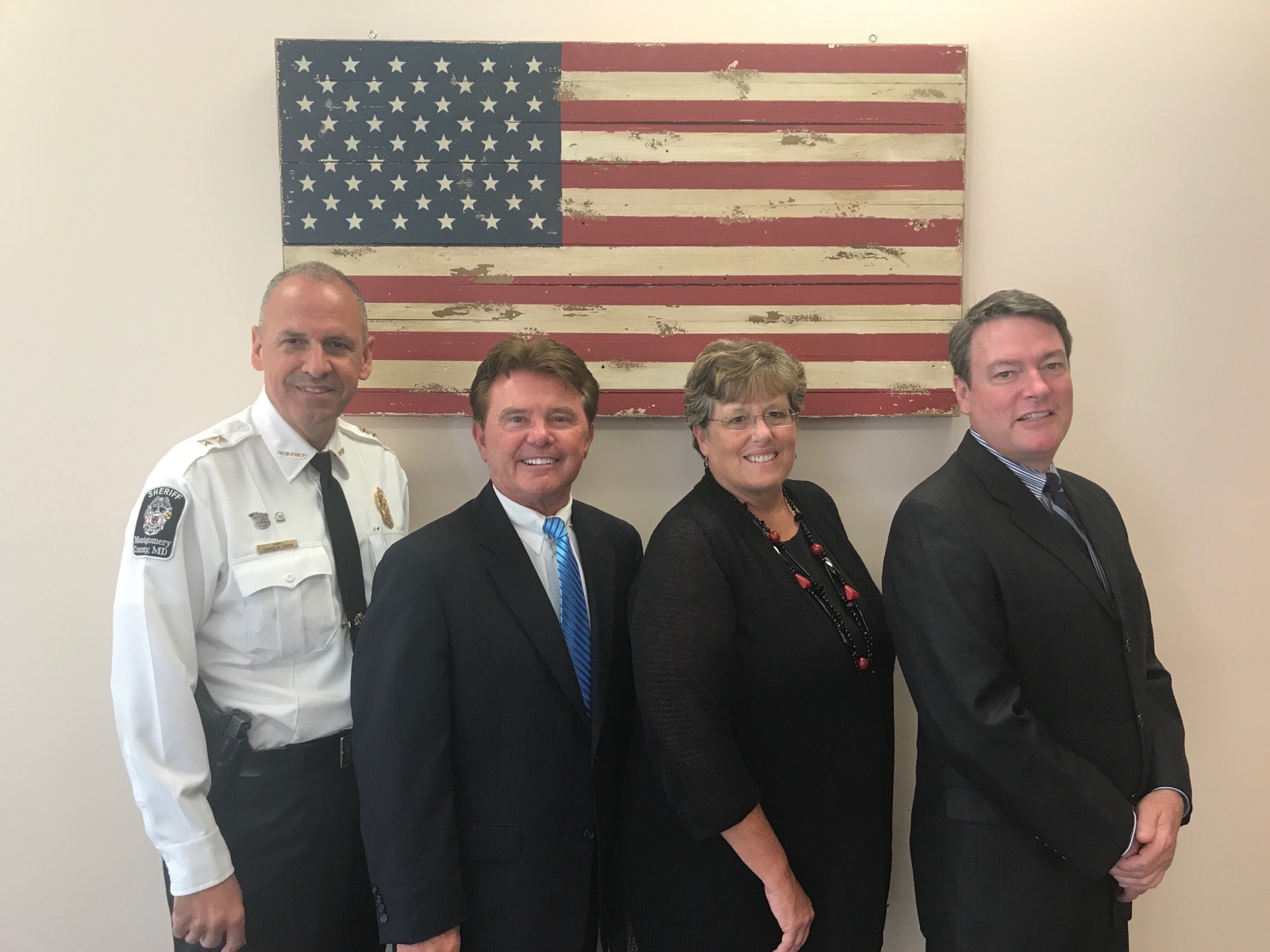 The Courthouse Team Files Paperwork for 2018 Gubernatorial Primary Election (PHOTO)
UPDATED It's official. The Courthouse Team is running for re-election in Montgomery County.
The team consists of State's Attorney John McCarthy, Clerk of the Circuit Court Barbara Meiklejohn, Register of Wills Joseph Griffin and Sheriff Darren Popkin. The four Democrats filed their paperwork at the Board of Elections office in Gaithersburg on June 26.
McCarthy, who is finishing his third term, said Monday's date is significant because it marks one year to the 2018 Gubernatorial Primary Election and, he said, the Courthouse Team is running together as a slate.
According to the Maryland Board of Elections website, the four incumbents are the first candidates to file their paperwork for each of their respective positions.
On his campaign website, Popkin touted his accomplishments.
"Under my leadership as the Sheriff for the past seven years and Chief Deputy for the prior 12 years, the Sheriff's Office has grown into a modern judicial and law enforcement agency providing unique, specialized services to the county's residents as well as to the legal and law enforcement communities," he said, noting that voters can find out more about him by exploring his website.
McCarthy said he is running because there are challenges ahead and he is energized to address them. He said some of these issues are domestic violence, crimes against the elderly, mental illness and the courts, the opioid crisis and increasing gang violence. McCarthy is in the process of updating his campaign website.
"My first two and a half years as Clerk of the Circuit Court have flown by, and there is so much more I would like to accomplish," said Meiklejohn. "Montgomery County Circuit Court is scheduled to go live with Maryland Electronic Courts (MDEC) in June of 2019. It has been a long time coming, but I believe it will help not only attorneys but all of the citizens of Montgomery County. I am looking forward to being at the leading edge of bringing MDEC to Montgomery County. Running as the 'Courthouse Team' is a blessing because we can accomplish so much together. The accomplishments are not only at the election level but also as a cooperative team within the courthouse."
Meiklejohn and Griffin did not list a campaign website in their campaign filings. Meiklejohn said voters can find out more about her campaign on her Facebook page.
For more information about the 2018 Gubernatorial Primary Election, visit the BOE website.