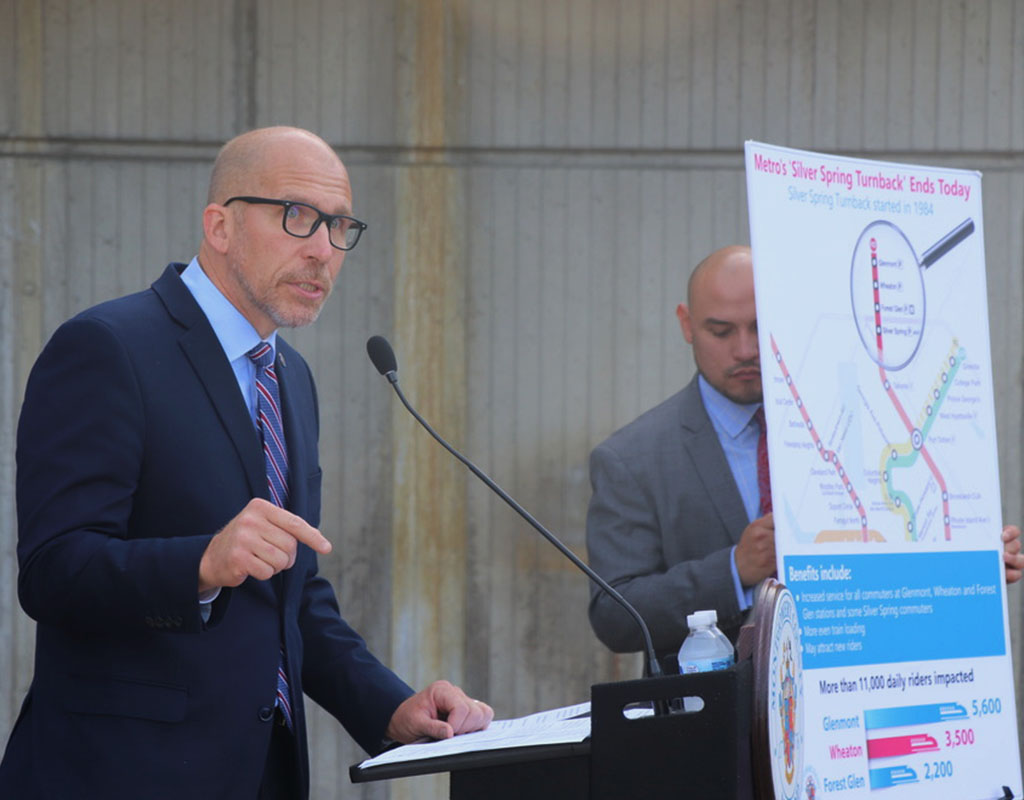 The Ever Annoying Silver Spring Metro Turnback Ends
Forest Glen, Wheaton, and Glenmont Metro riders officially have a less annoying commute because the Silver Spring "turnback" is no more.
County officials came out to the Wheaton Metro on Monday morning to celebrate the end of the Silver Spring Metro Red Line Turnback. Now, all redline trains will travel all the way to and from the Glenmont station, with no turn back.
Before the turnback ended, Washington Metropolitan Area Transit Authority was turning every other red line train around at the Silver Spring Metro Station, thereby inconveniencing people riding to Forest Glen, Wheaton, and Glenmont.
In December, the Metro officially eliminated turnbacks at the Grosvenor-Strathmore Metro Station in North Bethesda. In March, the Metro Board also voted to end Silver Spring's turnback, which has been affecting riders for 29 years.
Metro Board Member Michael Goldman said that the change wouldn't have been possible without having heard from community members at Councilmember Tom Hucker's Metro Townhall meeting in February.
The reason for starting the turnbacks, according to Metro officials, was because there was a shortage of railcars.
County Officials Hope End of Silver Spring Turnback Will Attract New Metro Riders
After the success of ending the Grosvenor-Strathmore turnback, Goldman said that the metro has seen an increase in ridership.
Montgomery Council President and Transportation Committee Join WMATA Officials to Mark End of Metro Red Line Turnbacks @CmHucker @nancy_navarro @hansriemer @EvanMGlass @willjawando @wmata @MCDOTNow

Read more: https://t.co/bIjAyxPw3L pic.twitter.com/3jU1Twj3yF

— Montgomery Council (@MoCoCouncilMD) July 1, 2019
Goldman said that from February to May, metro rail ridership was up 3 percent on weekdays compared to in 2018.
"In May, the most recent month we have data, this includes a 7 percent bump on weekends, with average Saturday ridership up 9 percent."
In addition to the turnbacks ending, Goldman had more good news for Metro riders.
Starting today, all Red Line trains now run between Shady Grove & Glenmont! Previously, half of the rush hour trains "turned back" at Silver Spring. With this change, rush hour service is effectively doubled at three stations: Glenmont, Wheaton & Forest Glen. #wmata pic.twitter.com/dPVJEaVZZu

— Metro (@wmata) July 1, 2019
"[A]ll metro rail passes will now come with unlimited Metro Bus rides at no additional cost. In addition, the unlimited regional bus pass will drop nearly 15% from $17.50 to $15 for a 7-day pass," said Goldman.
Hucker, the chair of the County Council's Transportation and Environment Committee, said that he plans to organize a celebration for the community later this month to promote the end of the turnback. He hopes the change will attract more people to ride the Metro.
"We really want to make sure everybody in this area knows, they just got a big amenity they didn't have yesterday and they really should try Metro again," said Hucker.
Tom Hucker Announces End of Silver Spring Turnback
Here's a look at the press conference Tom Hucker held Monday morning, celebrating the end of the Silver Spring Turnback.
.@tomhucker says that for 27 years people from Wheaton no longer have to deal with the Silver Spring turnback. Hucker says this is a big win for east side residents.

— Deirdre Byrne (@DeirdreByrneMCM) July 1, 2019
.@MoCoCouncilMD President @nancy_navarro says this is an important step in creating more reliable transportation in the county.

Navarro notes that this is another asset in revitalizing Wheaton. pic.twitter.com/gAzF5mwVgX

— Deirdre Byrne (@DeirdreByrneMCM) July 1, 2019
.@EvanMGlass says that another accomplishment today is that now, starting today, kids can take the @RideOnMCT bus for free. pic.twitter.com/UYBI5aIHky

— Deirdre Byrne (@DeirdreByrneMCM) July 1, 2019
Metro Board Member Michael Goldman said that he attended a metro forum in February organized by @tomhucker where he heard the voices of residents loud and clear – they wanted to end the turnback. pic.twitter.com/yzvx1gWi3I

— Deirdre Byrne (@DeirdreByrneMCM) July 1, 2019
Montgomery County Department of Transportation Director Al Roshdieh says that today's announcement will improve the lives of thousands of county residents. Roshdieh says that there's also ample parking spaces at Wheaton and Glenmont. pic.twitter.com/iV0O9dTgMi

— Deirdre Byrne (@DeirdreByrneMCM) July 1, 2019
Jane Rediker from Silver Spring Chamber of Commerce says that this is a great day for Montgomery County.

She adds "next thing we have to do is get them to extend the hours." pic.twitter.com/Wv7m3EmDX3

— Deirdre Byrne (@DeirdreByrneMCM) July 1, 2019
Previous Posts: