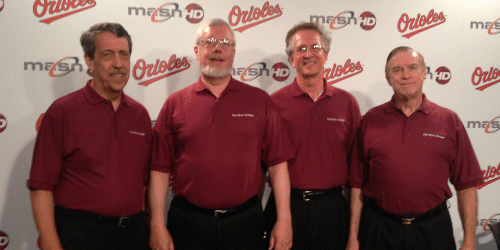 The Glen Echoes
Most barbershop choruses have embedded quartets that perform with the chorus and on their own.   Singing in a chorus requires some natural gifts, and some skill and training.  Singing in a quartet is a step beyond, requiring skill plus the commitment to spend hours every week refining your craft.
Harmony Express is fortunate to have two elite quartets, Handsome Reward and the Glen Echoes.  I talked about the former in my last post, and I'll give an account of the Glen Echoes this time.
The Glen Echoes is a Registered Barbershop Quartet based in Montgomery County. In barbershop harmony, singers try to "ring a chord."  When a chord is sung perfectly in tune, overtones and undertones are generated so that the ear hears five, six or even more distinct tones. The Glen Echoes take pride in their ability to truly make their chords ring.
Lead Richard Cook is a member of Harmony Express.  A barbershop fan since his youth, Richard not only performs with the Glen Echoes but also with other area groups–e.g., the British Players.  He spends his weekdays as a mechanical engineer for Wellstat Diagnostics, LLC, to support his singing habit.
Mike Holmes, tenor, was bass guitarist in a couple of rock-and-roll bands in the 1970s, and also plays piano and clarinet.  He recently retired from a long career as a software engineer, most recently with the J. Craig Venter Institute, a biotechnology company.
Baritone Ken Sleeman's love of music is due in large part to his mother, who encouraged him to take piano lessons at the age of seven. Professionally, Ken has been in the broadcasting business for 47 years, many of those as a deejay, and has a record library of over 40,000 titles. He currently manages his wife's band, Luisa & the Reverbs.
Al Blount, bass, is a relative newcomer to barbershop singing, having joined Harmony Express in 2011 and teamed up with the Glen Echoes last year.  He doesn't tell the quartet what he does for a living, but the guys have their suspicions.  Basses are pretty low-down!
For more about the Glen Echoes, visit http://www.glenechoes.com.  To hire the quartet to sing at your event, write to bookings@GlenEchoes.com.