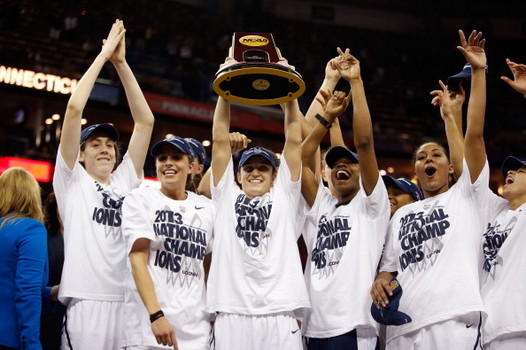 The Huskie Way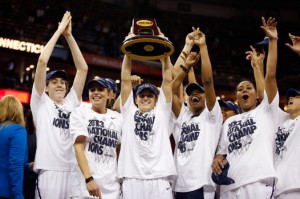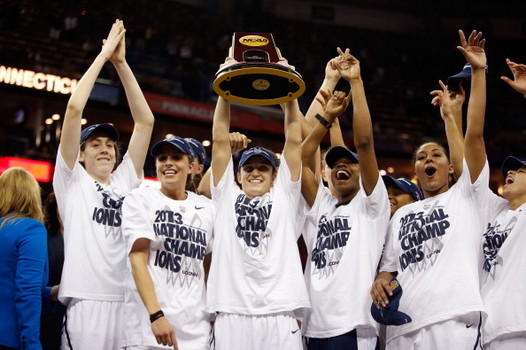 The University of Connecticut women's basketball team has always been a dominant force in NCAA women's basketball but this year they are far better than anyone else. UConn is undefeated with a record of 34-0. UConn has played 7 top 10 teams and they have won all those games by a combined 126 points! That means they average winning by 18 points in those 7 games. Those 7 wins include two 20 point wins over #3 Louisville.
The winning started at the end of the last season when they won the National Championship by 33 points. Connecticut's closet game was an 11 point win against #7 Baylor. UConn has scored at least 80 points in 22 games this year! They have scored 100 points or more in three games this year. This may be shocking to you but Connecticut fans have seen this before 7 times. UConn has had a undefeated regular season 7 times in the history of the school.
There is no way to explain what a great job coach Geno Auriemma has done. This will be UConn's 26 NCAA tournament in 26 years. How could a team ever be this good?  It is easy to see how they are so good when you watch this UConn team play. They play as a team and they don't really have a star player. Every player is dangerous and every player can take over a game in a flash. Coach Geno Auriemma says, "I like to tell our players to work hard so we can make it look easy at times." Well he is doing a great job at making it look easy.
They are also a very hard working team defensively. They have allowed under 40 points ten times this year! In a game against Cincinnati they only allowed 29 points in the entire game! The Huskies have proven to be the best in the nation by a landslide. They could probably beat some WNBA teams if they got the chance to play them.
If you are interested in the NCAA women's tournament then this article should have picked your national champion for you. UConn seems unbeatable so I wouldn't expect a underdog team to beat them. They are so efficient and humble that you can't sneak a win against them. Their coach does a great job of not allowing them to get cocky and overconfident. The UConn Huskies are not only the best this year but they may just be the best women's college basketball team of all time…