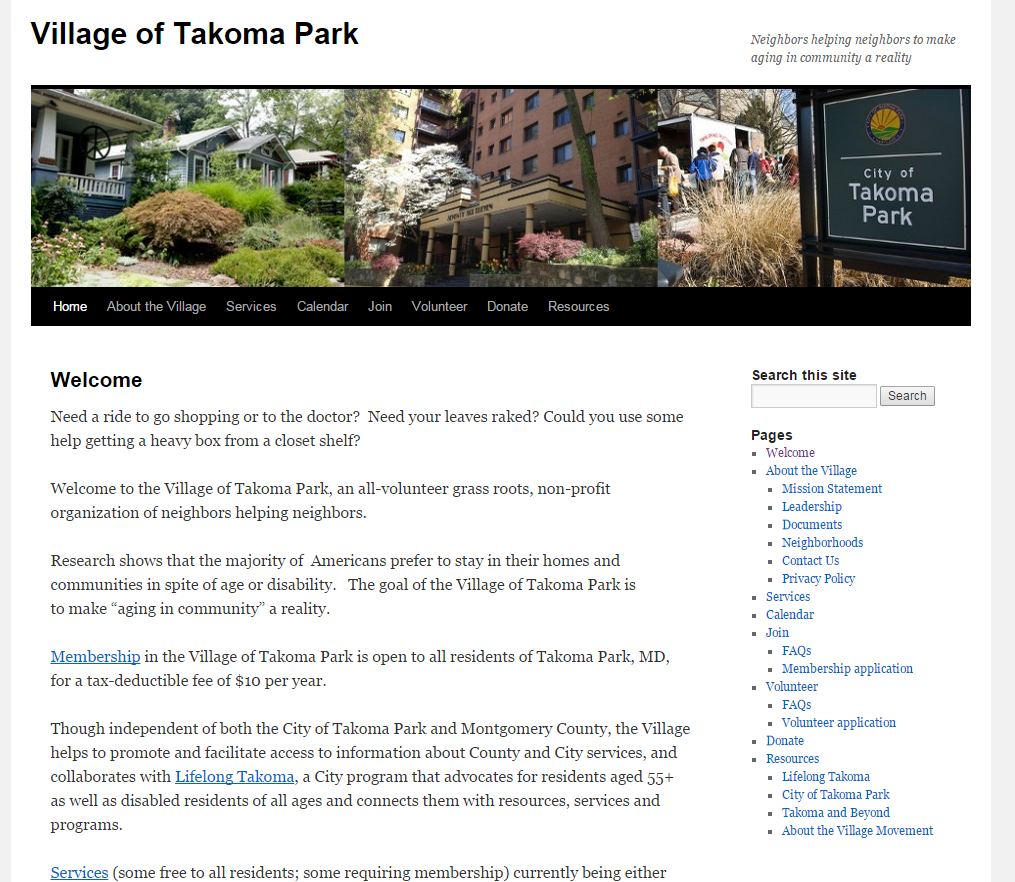 The Importance of Aging in Place: Village Movement in Takoma Park
It was four years ago when 69 people attended the first breakfast meeting at the Takoma Park Community Center to talk about Takoma Park seniors. Business people and family members talked about seniors current situation and resources available to age in place in the community.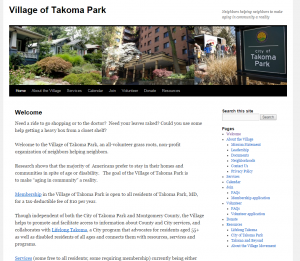 "The records of this meeting were the guide to seek resources, and persons from Montgomery County and the community who could present [a] solution. The sessions, a mixture of socializing and serious discussion have continued month by month for four years," said Wolfgang Mergner, Takoma Park resident.
Mergner is one of the many volunteers behind an initiative that helps an estimated 1,668 seniors in Takoma Park- according to the latest census. This resident talked about community engagement, members and volunteers, and the importance of aging in place.
Aline Barros: How is the engagement with the community? Are there events to raise awareness about the village movement?
Wolfgang Mergner: The village of Takoma Park is engaged with the community in four ways.
– The monthly meetings on senior issues are open and are advertised to about 200 subscribers. Furthermore, the invitation goes to all senior apartment buildings and other apartment buildings.
– The Village responded to calls of assistance from the community such as access to medical care, access to food stamps and food services and other social services.
– The Village introduced free transportation, a request put forward by the first focus group and friendly visitor program in connection with the Montgomery County's Department of Mental Health.
– The Village of Takoma Park is currently developing support groups for special needs such as individuals with Parkinson's disease and other musculoskeletal diseases.
On May 9, 2015, from 2 [p.m.] to 5 [p.m.] the Village of Takoma Park will have a big coming out party. They invite Takoma Park Residents and seniors. The Village invited for this occasion the music group DeJohn. This is an outstanding assembly that addresses many family issues in a humorous way.
AB: I know there is a Silver Spring Village, and residents become volunteers to help neighbors, so does the Village Movement in Takoma Park have registered volunteers and members? If so, how many?
WM: Many members of the Village of Takoma Park are both volunteers and members. In fact, volunteers offer all services provided. This is possible because the City of Takoma Park hired a staff person as program manager of Lifelong Takoma. This part-time position supports the Village, and it helps to assist seniors and people with disabilities to be connected to the County resources. Voluntarism is the strength of this grassroots organization. There is no age limit to becoming a member of the Village. We need younger individuals as volunteers. The Village of Takoma Park is young. So many things are in a stage of development.
Currently, we have 33 due paying members, 15 volunteer drivers, and eight volunteers that support friendly visits. The Board has nine members, and there are six committees in development that carry the business of the Village of Takoma Park.
AB: Is there a website that people can go if interesting in finding out more about it?
WM: Yes, there is a website which is in the final stages of development and can be reached under [Village of Takoma Park]. There is an office telephone: 301.646.2109. Requests for Rides can be submitted to 301.255.4212. Requests for "Friendly Visits" can be submitted to 301.424.0656, Ext 507.
AB: What about fees? If someone wants to become members, do they have to pay anything? Is it monthly, annually?
WM: There is an annual fee of $10 per individual. In hardship cases, there is a waiver of the fee.
AB: In your opinion, why is it so important to have people aging in place?
WM: Being allowed to get older in a supportive community is important for many seniors; these seniors would find it difficult to adjust to a new environment of senior communities. These seniors also would find it difficult to establish a new network of friends, and they would have to give up their life habits. These habits are best supported in exactly the environment where they live in. It is also much cheaper to society and the families if people age in their own homes. In order to make it possible and to allow seniors to age with dignity, the community has to help. Therefore, neighbors helping neighbors is such an important concept.