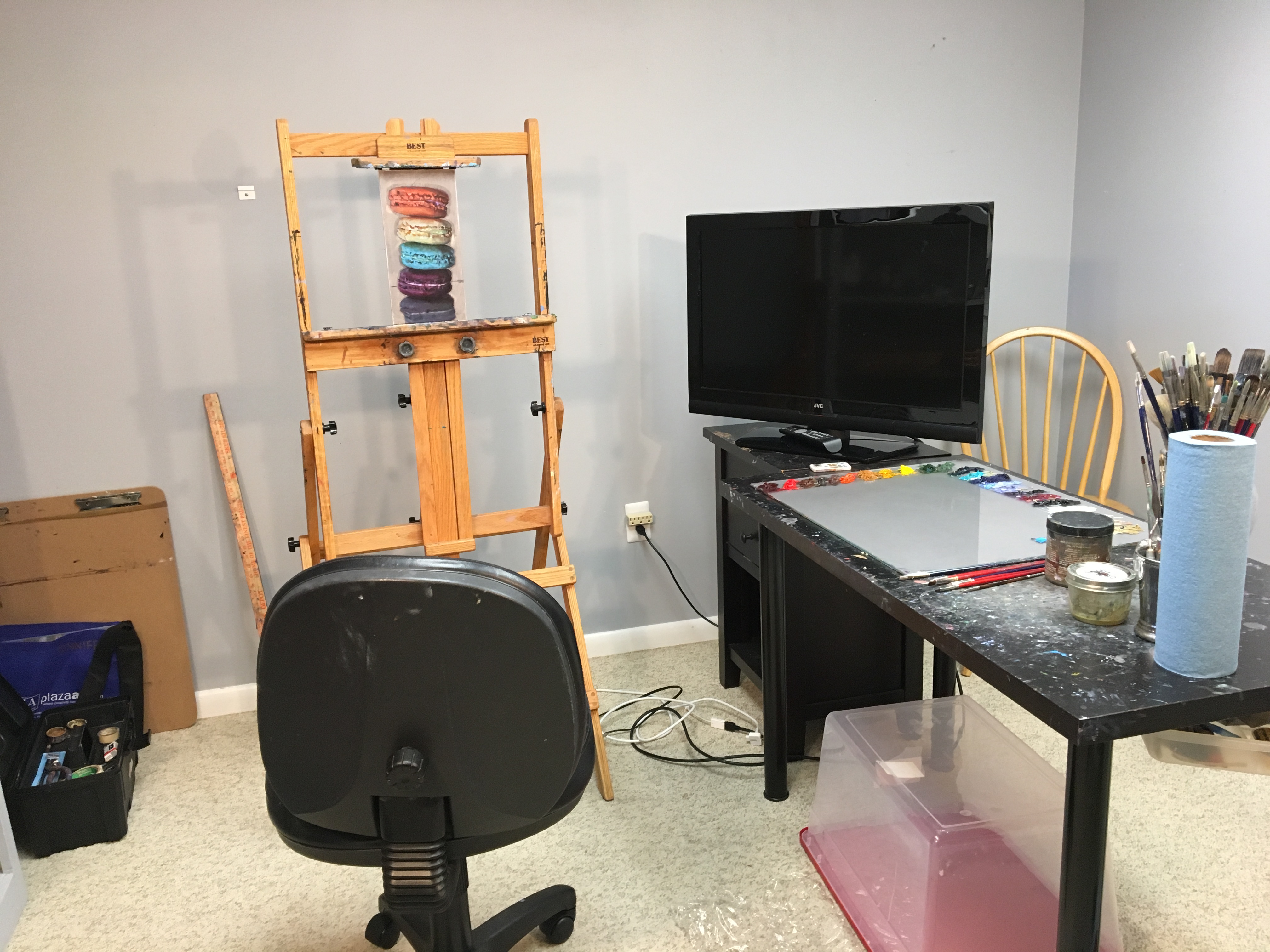 The Ingredients for an Artists' Studio
What makes up an artists studio?  If you are a painter, do you just need an easel?  If you are a ceramist, do you need a kiln?  The answer is different for each artist and for each discipline. I can only answer for what is MY art studio.
Confession:  My studio is small, has no frills, is located in my basement and is my happy place.
I do change it up, every once and a while, but this is the state of my favorite room today.
Welcome!  Let me take you on a tour: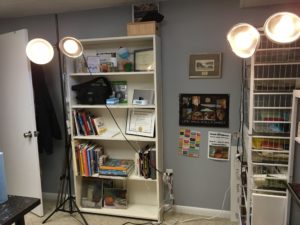 My handy bookshelf keeps everything neat and organized, from reference books of my favorite artists to awards to painting studies.  The most important feature located on the bookshelf is my docking station to play music.  I can not paint in silence!  I love painting to music.  This week I have Ed Sheeran's new album, Divide, on repeat.  Yes, those are spot lights.  Illuminating my easel is a must, especially in my basement studio.  It feels light daylight all the time with that many lumens.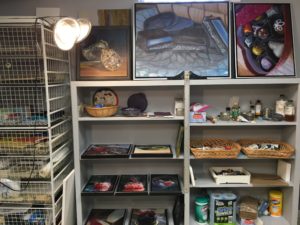 Yes, even more storage!  Storage racks for canvases still in their wrappers, contracts, marketing materials, and still life props.  My many shelves are the perfect place to carefully house my completed and in-transit paintings.  Most of these paintings are going to art shows next week (at the Glenview Mansion Art Gallery and the Chevy Chase Women's Club Art Show), so now they are getting some rest.  My tubes of paint each have a basket (one warm colors, one cool colors).  There are a plethora of painting mediums and solvents, as well as framing supplies.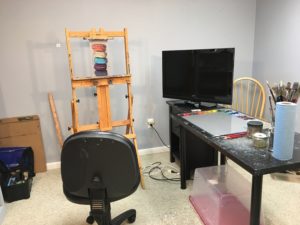 Now this is where the work gets done!  My extra large glass palette allows me to be frivolous when mixing lots of color and my old tv monitor, when connected to my laptop, lets me zoom into my subject, in great detail.  The neutral grey wall allows for no color distraction when painting.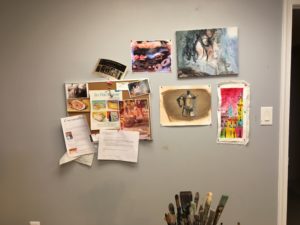 The inspiration wall is a must!  I have pinned up pictures of paintings that inspire me, articles that motivate, and my own work from various workshops I have taken as a reminder of different techniques. I am constantly adding to the wall.  Right now, my wall contains images by artists Will Cotton, Alyssa Monks, Mike Geno, Duane Keiser, and many more.
While this space is perfect for my painting, I admit I have started to take over other rooms in the house for my art.  There are so many stages to a painting: photography still life, gesso, varnish, frame, package and they all need space.  🙂