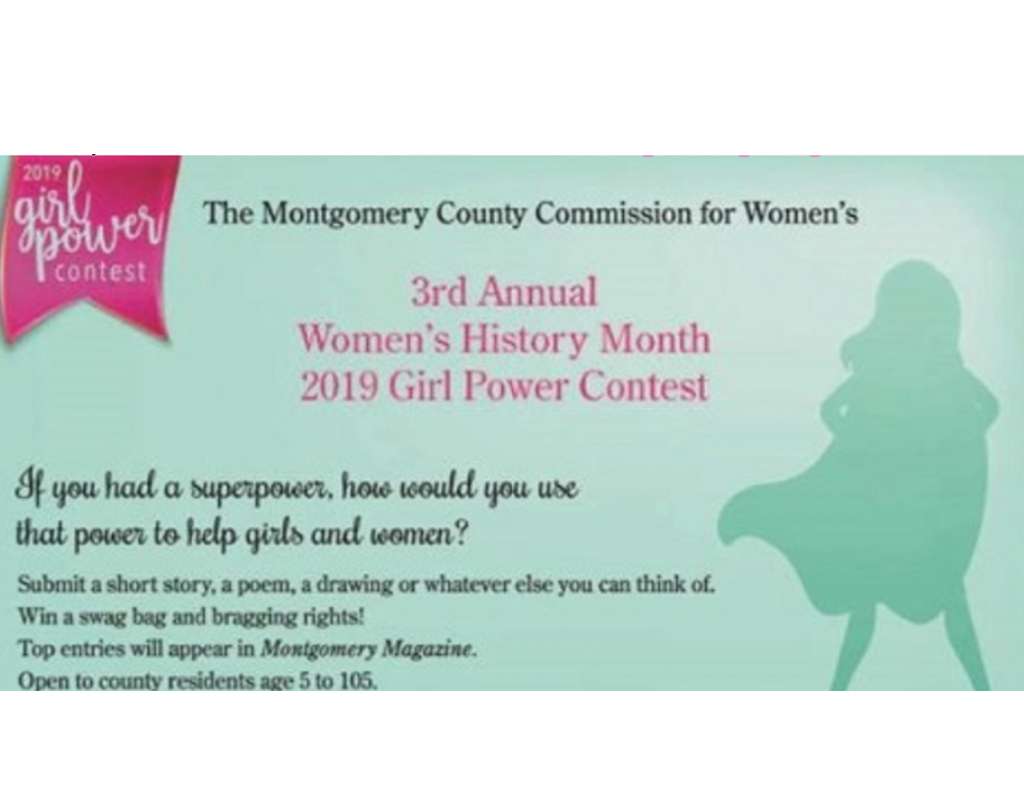 The Montgomery County Commission for Women Announces 2019 Girl Power Contest
In recognition of Women's History Month, the Montgomery County Commission for Women invite residents to participate in its third annual Girl Power Contest. All county residents ages 5-105 are encouraged to submit a short story, poem, or drawing that addresses the following question:
"If you had a super power, how would you use that power to help girls and women?"
Submissions will be accepted through March 30 and written entries should be not exceed 500 words.
In the 2019 Girl Power Contest, winning entries will be selected from the following categories: elementary, middle, high school and adult. Entries will be judged on creativity and should address the contest theme. Entrants are advised to not use vulgarities, racist, or sexist language or images in their submissions.
All contest winners will be announced by April 30. Top entries will be featured on the Commission for Women website and highlighted in Montgomery Magazine. Contest winners will also receive a swag bag, a photo with commissioners, and an invitation to be guest of honor at a Montgomery County Commission for Women event.
The Montgomery County Commission for Women serves as an advisory and department of the county government. According to its website, the Commission was established under law in 1972 and is mandated to advise the public, County Executive, County Council and agencies of county on issues concerning women in Montgomery County.
"We are thrilled to be partnering with Montgomery Magazine and Friends of the Library for our 3rd annual Girl Power Contest in honor of Women's History Month," said Executive Director of the Commission for Women Jodi Finkelstein.
Finkelstein and other members of the Commission are looking forward to reading the creative submissions this year. "Our Commission encourages contest participants to use their imaginations when describing their super powers," Finkelstein said.
For more information and to submit entries online for the 2019 Girl Power Contest, please visit: www.montgomerycountymd.gov/cfw/