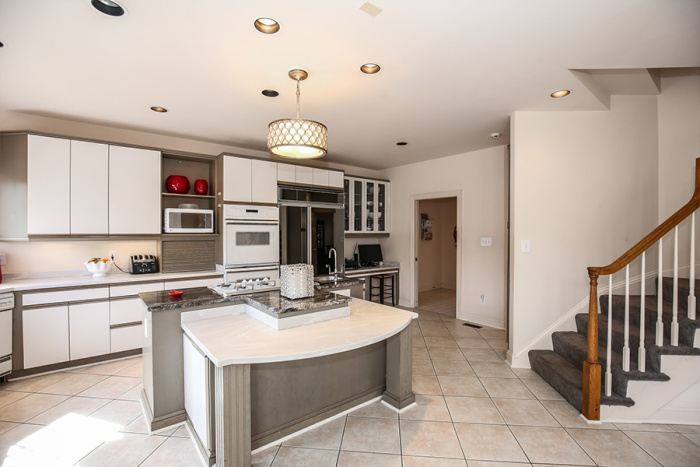 The Real Housewives of Potomac 2: Episode 6 No Pep in Potomac's Step
Anyone else out there need a little Red Bull or caffeine IV to stay with the RHOP? Where the hell is all the action? I mean, there is a slew of Kumbaya and hand holding which is downright confusing for all the regulars who are owed a certain level of crazy in return for tuning in each week
You scratch my crazy and I'll scratch the urge to grab the remote…
Last week's ending left us salivating for a cat fight right there in the driveway of Monique's I-cooked-everything-myself-cuz- that's-how-I-roll card night. If we have learned anything through thousands of Housewives episodes, it is that game night is just a front for a brawl. So, Mo' Money's friendly spades event was sure to fall right in line
But then after seven loooong days of waiting,
NOTHING HAPPENED.
Nada. Zero. Zilch.
The only thing that would have made Gizelle's gracious (read: boring) exit even remotely titillating would be watching her attempt to back her SUV all the way down the Samuel's winding driveway without ending up in a ditch. After witnessing the struggle of the first few feet –maybe her magic cape got in the way– we see why Karen is all about the circular drive in her new-sized, right-sized house hunt.
Speaking of Karen's house search, there is still the pesky problem of selling Chez Dr. Black Bill Gates (DBBG). Last season, we spent an enormous amount of time lamenting Karen's crappy kitchen with laminate and 90's appliances which she insists are worthy of the Taj Mahal.
This week we were treated to a review of that same kitchen through a buyer's eyes. Grab the popcorn people, this is entertainment.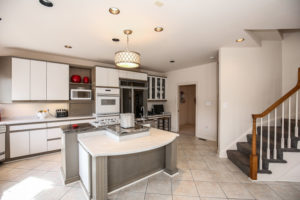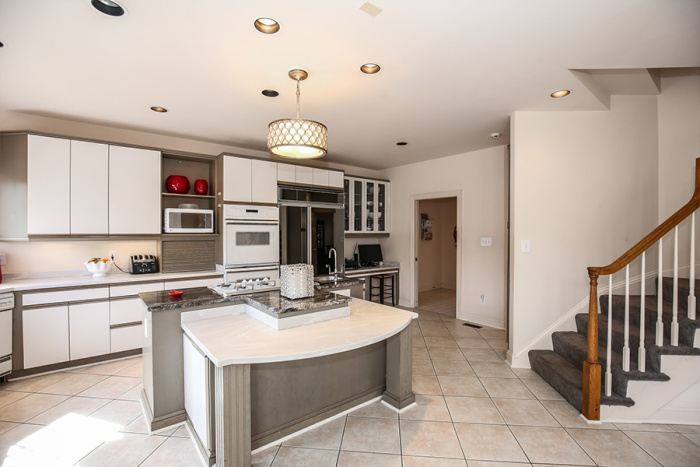 The list price of Chez DBBG hovers around 2mil with a recent (gasp) price reduction and the buyer might as well have been touring a trailer park. The listing agent tried to put some major lipstick on the pig to no avail. Goes to show you, Corian has no place in the Carrara Marble corner of the world.(see pic)
The split screen between Karen gushing about her estate fit for a classy family and the prospective buyer's obvious distaste for all that was hip in the 90's was the highlight of the show.
I rewound it and watched it twice.
Ashley is still poking her snout where it doesn't belong and the ladies are O-V-E-R I-T. Ashley should spend more time taking a hospitality management class online and less time watching Dr. Phil. Her restaurant is failing and no one wants her as a therapist as a side job. Even the newly Zen Charrisse 2.0 threatened to mess up Ashley in a fancy dress shop after some serious sniping amongst the sequins.
Charrisse 2.0 can rest easy, Ashley's new role as relationship counselor of the 20854 (and extended counties) has her laser-focused on Robyn. I got no beef with Robyn and her Juan and only but Ashley PHD has intel that our hoops star is scoring off the court. Ashley wanted Robyn to talk about her feelings and have a full on therapy session and Robyn really just wanted to yank Ashley out of the room by her poodle hair. After calling a technical foul on Ashley for not minding her own beeswax, Robyn insisted a Juandering eye was ok by her.
Robyn is applying Karen's rose-colored real estate glasses to her relationship.
So, Charrisse 2.0 and Gizelle (whose friendship flip flops like two tween girls) lured Robyn over to see the yet to be constructed champagne room. Who wouldn't drive 40 minutes from Baltimore to see a perfectly functioning office become a shrine to the bubbly? The big letdown is Charrisse 2.0 only had pictures which clearly showed a gaudy hybrid of wine fridge and dressing room with a chandelier and lots of upholstery. Anyway, Robyn thought she was there for renovation but it was a straight up intervention.
Robyn kept insisting she was fine and this was all no one's business. I'm pretty sure BRAVO just made it my business. Me and a million of my closest friends. Not sure what the over/under is on when she cracks and Juants out; but my money says before the reunion.
A few weeks ago we got a tour of the future Samuel's compound. You know, the one they want to purchase to prove to everyone in Potomac that they are not about "things and stuff." Remember it is not Mo' Money's fault she was rescued from a life of rhyme by a famous, rich football player. It must be so tiring to have everyone hating on you—sorry, I mean throwing shade—because you are paying cash for a 4.7 million dollar home. So, the Samuels met with their Pastor and wife –who is also the Realtor and inexplicably called the First Lady—to sign the contract and "keep the properties in God's hands."
If the new homestead is any indication, God has excellent taste in real estate.
The hand of God and the Pastor were putting a divine intervention smack down on Mo' Money for her behavior during card night festivities. And Mo' Money teed it up perfectly by calling Gizelle "Jezebel" —perhaps the biggest Freudian slip in Housewives history.
People who live in multi-million dollar glass houses should not throw stones and call party guests a "trick" before asking them to leave. Mo' Money cried big crocodile tears through her professionally applied mascara and swore to the Pastor it was all her mother-in-law's fault.
Poor Monique just wants to be accepted as the cash paying, four house owning, humble person she is.
There's a rap in there somewhere…
Next week Karen is invited to speak at a luncheon and you know what that means… peeling back the Housewife layers and crying the ugly cry.
I can't wait.
Photo courtesy of Long and Foster Real Estate