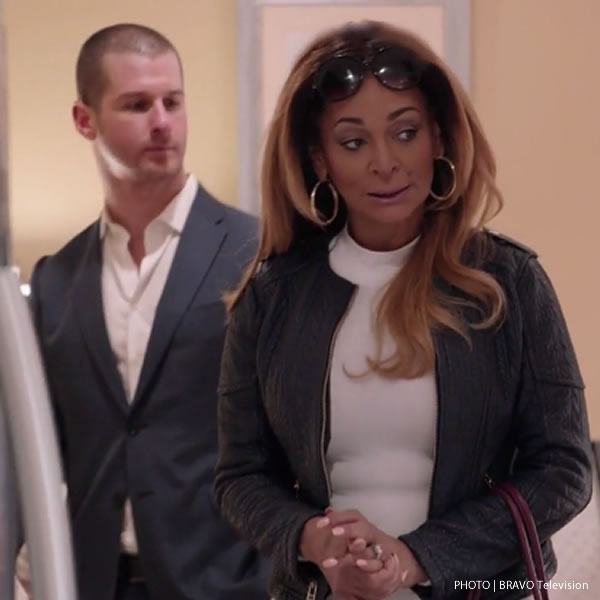 The Real Housewives of Potomac 2 Recap 1: Rapping, Snapping and Scrapping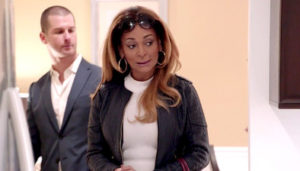 The Real Housewives of Potomac (RHOP) franchise was pissing people off even before its triumphant return Sunday night. The teasers and promos were all about 'The Mac' for weeks.
Hey, I've got a memo for the creative clowns at BRAVO:  Do not mix up Potomac with a fast food order.  That is not how we roll here in the '54.
Now, that we've cleared that up.
All the lovely ladies of Potomac– or somewhere sort of near Potomac–are returning to our family rooms sans cast mate Katie Rost .  You remember Katie!  She used lingerie to brow beat her boyfriend into a proposal on national television and then was shocked when a season's worth of arm twisting didn't pan out. Maybe she got her reality shows mixed up and thought she was on "The Bachelor" nestled amongst her peoples.
Desperate and a little psycho for that final rose.
Anywho, I thought we could kick off this recap with a synopsis of our Potomac gals for those that may not have been regular viewers last year:
Charrisse:  The backstory on Charrisse is that she is married to former Wizards coach Eddie Jordan. Except he lives in New Jersey even after he got fired from his job in New Jersey so Charrisse wants a New Life in old Potomac.  Charrisse apparently refers to herself in the third person these days and has an alter ego named Sha-Sha which is alarming. Almost as alarming as watching her rap while riding a Hoverboard and snapping selfies in her kitchen.  I'm betting there is no future for a middle-aged, mom rapper who refers to herself in the abstract but I will run it past Eminem and report back.  We were informed in the narrative shots that Charrisse is moving on and ready to be happy. That would all be believable if she wasn't sporting long hair and bangs with a lace-up suede top like a cross between Pocahontas and Cher's "Half Breed" circa 1973. The vision of Charrisse with a basket of maize is clouding her words.  Yet, even with distractions, one thing is clear. Last year's reunion show sparked  a hair-raising, cat fight between the new, improved  Charrisse 2.0 and Gizelle.
Gizelle:  Now, Gizelle is the divorced mom of three girls who is happy to tell us she is the "word on the street."  Maybe that is a good thing in Potomac, but in the rest of the world being the word is the worst.  However, one word we can confidently associate with Gizelle is "single." Last season, we followed her on dates with many would-be suitors and this year promises more of the same. Sunday, there was some awkward talk at the salon about packages and short men and connecting dots to an X-rated picture I couldn't unsee.  Between dates, Gizelle has been asked to judge a charity dance competition.  Gizelle was sent packing at last year's event so she was looking to avenge that loss through the scorecard of none other than participant Ashley…
Ashley:  Our Ashley went Down Under to nab her man but lately something in the marriage got lost in translation.  The duo opened a restaurant together and subsequently opened up a can of whoop ass in the relationship. Nothing says I love you, like a failing business and a reproductive plan based on the success of said business. Say what? See, when the Ancient Aussie funded her restaurant, he made the romantic deal that the baby making would commence as soon as the business broke even. Ain't love grand?  All this gave Ashley an ax to grind and she used her hips in the dance studio to twerk it all out.  On charity competition night, Ashley channeled her inner Jennifer Lopez, fringe and all. The outfit was small but the performance was big enough to get the win. Even jaded Gizelle gave her a 10. Can a stint on "Dancing with the Stars" be far behind? There was a mirror ball trophy and everything.
Karen:  Speaking of stars, Karen is here to tell you she is the star of the show, if not the entire universe.  The high priestess of Potomac with her high forehead is on the move.  She is right-sizing (not be to be confused with down-sizing) into a new home. As we join the search, her Realtor looks uncomfortable; like his family members were being held hostage and closing a deal with Karen was the price of freedom. He couldn't even look her in the eye. Oh wait, that's because she had her sunglasses perched somewhere in the middle of her forehead, so he wasn't sure which eyes to look at. My bad. It seems at some point during the hiatus, Karen's husband earned a doctorate. So, now he is Dr. Black Bill Gates.  I bet the internet company even mailed him a degree.  Even with all his fancy titles, the fake doctor was happy with the crappy million dollar house that Karen thought was beneath her. Just imagine her dismay if she caught a glimpse of Robyn's new digs.
Robyn:   Robyn and her "Juan and only" have moved outside Baltimore after admitting to financial troubles at the end of last season.  They still aren't technically a couple; they only live together and are raising their kids together. You see the difference, right?  He doesn't look like he Juants to be on camera any more than Karen's realtor did but managed to drop solid advice on Robyn when he told her to stay out of the feud between Charrisse and Gizelle.  Gizelle made a day trip to visit their new pad and can't conceal her pity for the whole Dixon crew.  She stopped short of a Go Fund Me page and settled in for a chat. Robyn tried to talk sense into Gizelle about the Charrisse/Sha Sha/Rapper Jordan situation but after her arduous trek to the East, Gizelle had no patience.
Did you get all that? Next week we are introduced to a new RHOP that sports a burgundy and gold pedigree sure to shake things up.
Stay tuned!
Photo Courtesy of BRAVO Television